FSEEE Sues Forest Service Over Fire Retardant
Discharging chemicals into waterways violates the Clean Water Act.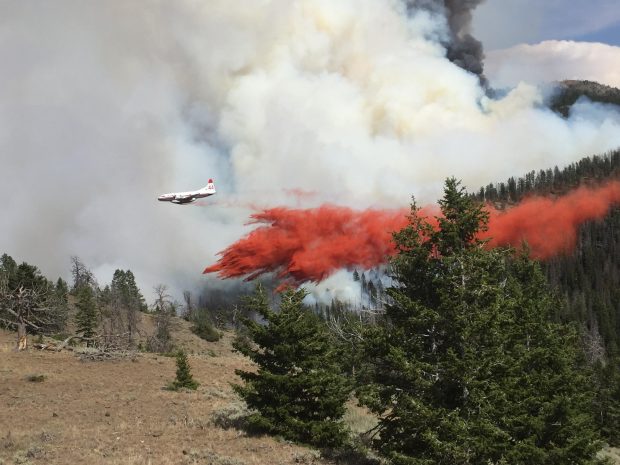 Sixty days have passed since FSEEE delivered a notice of intent to file a lawsuit against the U.S. Forest Service for its use of fire retardant in violation of the Clean Water Act (CWA). The Forest Service has not responded, so we have filed a lawsuit in U.S. District Court in Missoula, Montana.
The CWA prohibits the discharge of pollutants into U.S. waters without a permit, yet the Forest Service has discharged hundreds of millions gallons of fire retardant without a permit since 2012. In a draft environmental impact statement (EIS), the Forest Service admits that it and its contractors discharged retardant from aircraft directly into U.S. waterways on at least 376 occasions between 2012 and 2019.
Fire retardant is a pollutant, and the agency's use of retardant is ongoing and increasing, putting additional waters at risk from these illegal chemical dumps. The Forest Service draft EIS states that fire retardant "may affect" 57 threatened and endangered aquatic species and is "likely to adversely affect" an additional 32 aquatic species, further acknowledging that the Forest Service regularly discharges a chemical pollutant into waterways.
The Forest Service has taken the position that a June 23, 2011, letter from the U.S. Environmental Protection Agency (EPA) excuses its failure to obtain a permit. Nonetheless, an EPA opinion cannot amend an act of Congress, and the CWA requires a National Pollutant Discharge Elimination System (NPDES) permit for the discharge of fire retardant from aircraft into waterways.
In our notice of intent, FSEEE expressed a willingness to discuss effective remedies for these CWA violations, but since the 60-day notice period passed without any response from the Forest Service, FSEEE's lawsuit seeks "injunctive relief to compel the Forest Service to comply with applicable environmental statutes."