Four Forest Restoration Initiative Halted
FSEEE consistently questioned the project.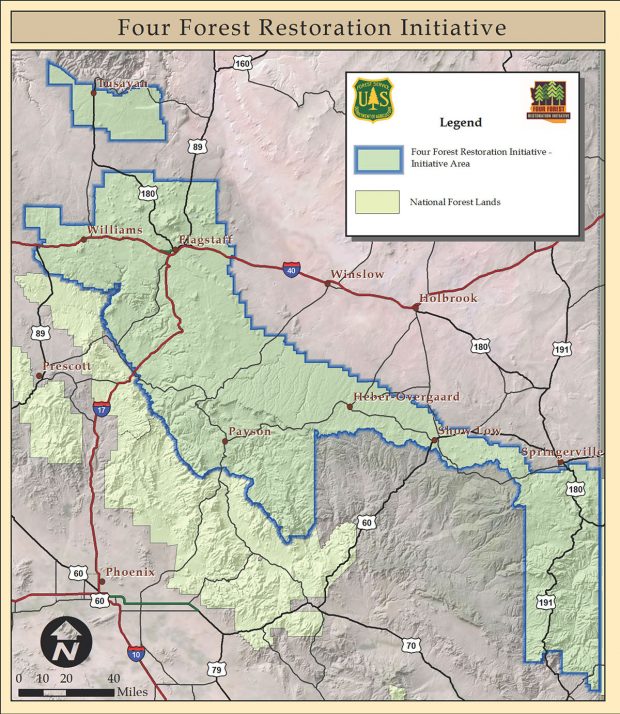 The Forest Service has halted the largest restoration effort of its kind, the Four Forest Restoration Initiative (4FRI), an effort to thin forests on 2.4 million acres of land in northern Arizona to reduce the risk of catastrophic wildfire. FSEEE has consistently questioned this program, launched more than a decade ago to restore woodlands in the Kaibab, Coconino, Apache-Sitgreaves, and Tonto National Forests.
The Forest Service website indicates the overall goals of 4FRI are "to restore the structure, pattern, composition, and health of fire-adapted ponderosa pine ecosystems; reduce fuels and the risk of unnaturally severe wildfires; and provide for wildlife and plant diversity. In addition to creating sustainable ecosystems, one of the key objectives is creating and developing sustainable industries" that are "expected to create a variety of jobs across northern Arizona."
When 4FRI was launched, it received widespread support from timber companies and environmentalists alike, but the initiative has never lived up to expectations. The first phase of the project was intended to treat 300,000 acres, but only a fraction of that acreage has received treatment. The latest setback comes with the recent Forest Service decision not to award a contract for the second phase of work on 812 square miles.
The Forest Service solicited bids for the work two years ago with a contract award expected by May 2020 and the work expected to last for 20 years. In deciding not to award the contract, the Forest Service cited "significant risks (that) compromise the likelihood of successful performance over 20 years."
In 2011, the Forest Service and the 4FRI Stakeholder Group signed a memorandum of understanding to accomplish the ambitious 20-year project. The Stakeholder Group represents 45 entities, including local governments, state agencies, timber industry groups, and conservation groups, many of whom have expressed dismay with the Forest Service decision to cancel the phase 2 contract.
The 300,000-acre phase I contract for 4FRI was initially issued to Montana-based Pioneer Forest Products in 2012, but Pioneer left the project just a year late, and the U.S. Forest Service gave the contract to Good Earth Power. The company never met contract goals and faced lawsuits from a former partner alleging fraud and from former executives alleging unpaid salaries.
In 2019, Pacific Northwest logger Tom Loushin and his former Washington-based company invested in Good Earth Power, now known as NewLife Forest Products. Loushin brought more than 40 years of experience in large-scale timber operations to 4FRI from his time in Washington and Alaska, hoping to reinvigorate the lagging restoration operation, but as the phase 2 cancellation suggests, results have been less than stellar.