New USFS Chief Randy Moore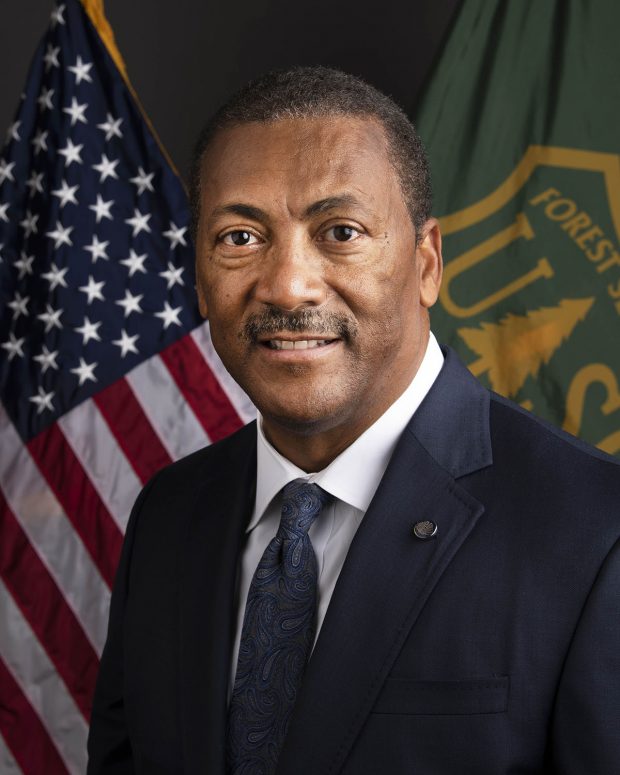 In July, Agriculture Secretary Tom Vilsack named Randy Moore the new Forest Service chief. In announcing the appointment, Vilsack said, "Randy Moore has been a catalyst for change and creativity in carrying out the Forest Service's mission to sustain the health, diversity and productivity of the nation's forests and grasslands. … In his role as regional forester, Randy has been a conservation leader on the forefront of climate change, most notably leading the Region's response to the dramatic increase in catastrophic wildfires in California over the last decade. His proven track record … positions him well to lead the agency into the future at this critical time."
Moore's background also includes managing state and private forestry programs in Hawaii, serving as regional forester for the Eastern Region in Wisconsin, and serving as forest supervisor for Mark Twain National Forest in Missouri. He began his 43-year career in 1978, working in the Department of Agriculture's Natural Resources Conservation Service in North Dakota.
The National Wildlife Federation applauded Moore's appointment. "Randy Moore has demonstrated strong leadership in stewarding our nation's forests and grasslands at time when they are under threat from climate change, megafires, invasive species, and drought," said Mustafa Santiago Ali, vice president of environmental justice, climate, and community revitalization at the NWF.
E&E News reports that Moore also received a favorable response from industry groups like the California Forestry Association, where Steve Brink, vice president of public resources, praised Moore for moving quickly to work with nonfederal partners on projects like forest thinning in fire-prone areas. As a regional forester Moore emphasized wildfire response and, as recently as May, advocated for higher pay for firefighters in an effort to retain them.
Moore's detractors include Susan Jane Brown, staff attorney with the Western Environmental Law Center, and Chad Hanson, forest ecologist and director of the John Muir Project. E&E News reports that Brown questions Moore's commitment to addressing sexual harassment and that Hanson sees Moore as a typical Forest Service chief "focused on getting the cut out and promoting commercial logging" based on questionable science.
Several weeks after taking office, Moore told the Los Angeles Times, "Our forests are really in a state of crisis. … Due to climate change, due to extreme drought that's taken place, the fire intensity is just off the charts. … I think you have to balance the conversation a bit by not only talking about the need to suppress these fires; we have to talk fuel treatments."