Dirty politics for dirty oil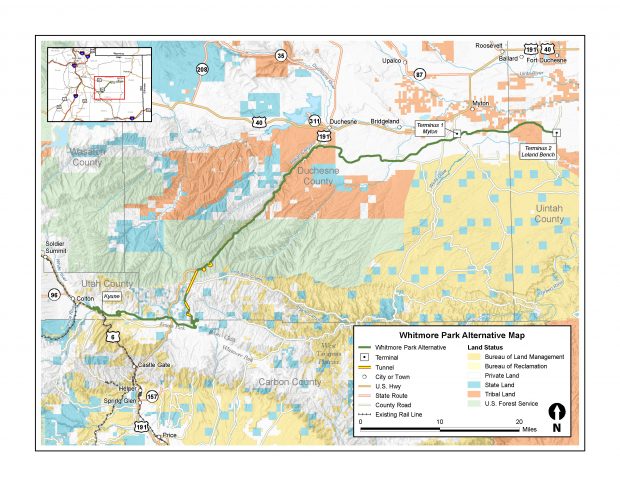 A proposed railway would unlock some of the dirtiest petroleum reserves in the U.S. by transporting heavy crude oil across National Forest lands. The opportunity to submit comments opposing this Ill-conceived project has been extended until Feb. 12.
The Uinta Basin in northeast Utah holds extensive oil shale and tar sands formations, two of the least desirable types of petroleum reserves. The Seven County Infrastructure Coalition of northeastern Utah proposed the Uinta Basin Railway (UBR) for transporting their heavy crude oil to Gulf Coast refineries. As reported in The Salt Lake Tribune, the new line would enable Uinta Basin oil production "to nearly quadruple to 300,000 barrels a day."
The UBR draft environmental impact statement documents "unavoidable impacts" to surface waters, wetlands and endangered species habitat, and the "preferred route" for the rail line crosses part of Ashley National Forest just inside a roadless area. The UBR would then connect to an existing rail line, where the heavy crude would travel east and south through Colorado.
The coalition of energy-producing counties jumpstarted the railway using a $21.4 million state grant funded by federal mineral royalties. Environmental groups filed a lawsuit over the grant, asserting, "This money is meant to help repair damage done by the fossil fuel industry, not subsidize it" (The Salt Lake Tribune).
In the meantime, the Infrastructure Coalition has chosen the Rio Grande Pacific Corp., a railroad holding company, to develop and operate the UBR. On New Year's Eve, the Rio Grande Pacific announced that one of its subsidiaries, Colorado Midland & Pacific Railway (CMP), had leased the dormant Tennessee Pass rail line from western Colorado to the Royal Gorge in south-central Colorado.
According to a press release, CMP will "assess the interest" of communities along the Tennessee Pass line in freight and passenger service. As media outlets like Trains and The Colorado Sun have reported, the Tennessee Pass line would provide a shortcut for transporting Uinta Basin crude to the Gulf Coast, where a Rio Grande Pacific subsidiary operates a large crude oil terminal.
Reopening the Tennessee Pass line would make it the highest active rail route in the country. The line would potentially carry Utah oil along the Eagle River through parts of the White River National Forest, up 3-percent grades and across the Continental Divide at Tennessee Pass, an elevation of 10,424 feet.
At the pass, the rail line crosses into the San Isabel National Forest then follows the Arkansas River to the Royal Gorge. Along the way, it crosses Forest Service and BLM lands and passes through Browns Canyon National Monument. 102 miles of river along this section of track have earned a Gold Medal fishery designation, the result of a decades-long Superfund cleanup effort and concerted local stewardship.
The draft environmental impact statement is available here. Comments can be submitted here.