Opinion: Look to wildfires history to better prepare for next one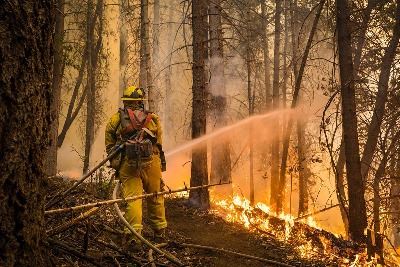 By Guest Columnist Tom Spies —
Spies is an emeritus scientist with the USDA Forest Service's Pacific Northwest Research Station. He lives in Corvallis.
The devastating wildfires in western Oregon have caused tragic losses of life, homes and forests. While the current fires are beyond the experience of most of us, we do know the long-term history and ecology of fire and forests in western Oregon. That knowledge can provide perspective for our present situation and better prepare us for the next fire.
Historically, forests in the Coast Range and western Cascades burned infrequently, every 100-500 or more years. The fires were typically huge – 100,000 to 1 million acres in size – creating coarse mosaics of completely-burned and partially-burned forests. Our current old-growth forests were established following these fires. The frequency of fires has varied – some centuries experienced few fires while other centuries had many. These fire cycles often tracked natural decades-long climate cycles of warm, dry conditions and relatively cool, wet conditions.
The biggest fires occurred when hot, dry, high winds from the east blew-up small existing fires into million-acre monsters, as we have just experienced. For example, years of drought preceded the Tillamook Burn of 1933, a massive fire in the northern Oregon Coast Range which was ignited by a logging operation. That fire consumed 350,000 acres of forests – 250,000 acres of which burned during two days of an east wind event. Thus, while the recent fires are outside of our personal experience, they apparently behaved like other historical fires that were closely tied to climate and weather.
While large, high-severity fires are not new in this region, the fires are happening in new landscapes and under a new climate. Now thousands of people live, work and play in and near forests; landscapes are dotted with homes, covered by forest plantations, old-growth reserves, and beloved recreation areas. Human activities are also changing the climate, which means that normal climate-fire cycles are likely being altered as global warming increases the severity of droughts and the length of the fire season.
What actions can we take now?