Protecting America's Wilderness Act
The U.S. House of Representatives passed H.R. 2546 by a vote of 231-183, sending the bill to the Senate in mid February. The Protecting America's Wilderness Act would designate more than 1.3 million acres as wilderness at dozens of locations in Washington, Colorado and California, making it one of the most significant land protection efforts in a decade. We highlight three of the proposed areas here.
Moonlight Dome

The proposed Moonlight Dome Wilderness Area would protect 9,117 acres of Olympic National Forest between the West and East forks of the Humptulips River on Washington's Olympic Peninsula. An old-growth forest dominated by Douglas-fir and western hemlock blankets the 4,000-foot peak of Moonlight Dome and nearby Stovepipe Mountain. With no trails or roads into the proposed wilderness area, visitors are few and far between, leaving the wild forest as an oasis for fish and wildlife, including salmon and Roosevelt elk.
The Moonlight Dome region contains one of the country's most extensive stands of old-growth rain forest that has not yet been afforded full protection. The ecological value of old-growth forest combined with the myriad of resident fish and wildlife species deserves the protection that only a wilderness designation can provide. That protection will also ensure that the forest continues to perform its invaluable role of sequestering carbon in this age of climate change.
In previous decades, the Forest Service considered allowing this area to be logged. In 1994, the Forest Service decided this pristine forest was more valuable for its ecological resources than for construction materials. Since that decision, Moonlight Dome has been waiting for Congress to provide permanent protection. We hope the wait will soon be over.
Browns Canyon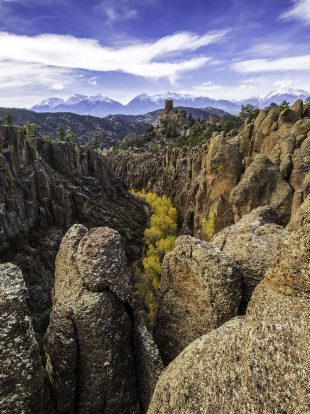 In Colorado, H.R. 2546 proposes to designate 17,922 acres as the Browns Canyon Wilderness Area. The story of Browns Canyon wilderness dates back to 1972 when the Forest Service conducted its Roadless Area Review and Evaluation known as RARE I. RARE I identified more than 100,000 acres of San Isabel National Forest in the Browns Canyon area as possessing wilderness qualities.
The 1976 Federal Land Management Policy Act directed the Bureau of Land Management to review its land for best management practices, including land adjacent to the Forest Service roadless area. As a result, the BLM designated more than 6,000 acres along Browns Canyon as a wilderness study area (WSA) in 1980. A 1991 BLM wilderness study report recommended the Browns Canyon WSA for wilderness designation.
In the meantime, motorized backcountry traffic had whittled away at the National Forest roadless acreage. A wilderness bill was introduced in 1991 that would have protected almost 35,000 acres of Forest Service and BLM land in and around Browns Canyon. That effort failed in Congress, as did subsequent attempts to designate the area as wilderness.
In 2015, following another failed attempt to gain a wilderness designation, President Obama designated 21,586 acres as Browns Canyon National Monument under the authority of the 1906 Antiquities Act, signed into law by Teddy Roosevelt. As the presidential proclamation establishing the monument states, "In central Colorado's vibrant upper Arkansas River valley, the rugged granite cliffs, colorful rock outcroppings, and stunning mountain vistas of Browns Canyon form an iconic landscape that attracts visitors from around the world."
In fact, the section of the Arkansas River that includes Browns Canyon is the nation's number one destination for whitewater rafting. This portion of the river also boasts a Gold Medal trout fishery and a Wild and Scenic designation. Outdoor recreation powers the local economies of the small communities along the river, towns like Buena Vista and Salida, which were founded during Colorado's mining boom but had to redefine themselves after their mining economies went bust.
The national monument includes the BLM WSA and some of the last remaining acreage of the Forest Service roadless area. This land within the national monument as well as land adjacent to the monument would constitute the proposed wilderness area.
Pattison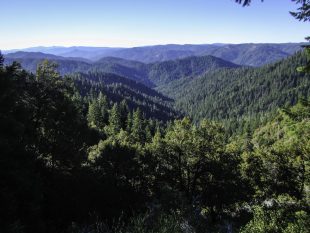 H.R. 2546 would also protect 28,400 acres of backcountry in the mountainous Shasta-Trinity National Forest of northern California. Like Browns Canyon, the land in the proposed Pattison Wilderness Area has seen repeated efforts to establish wilderness protections, dating back to the early 1980s. The proposed wilderness area encompasses old-growth and mixed hardwood forests that provide important habitat for a variety of wildlife, including endangered spotted owls. The Pattison area's Hayfork Creek and its tributaries provide important cold-water habitat for salmon and steelhead.
The region also provides outstanding opportunities for outdoor recreation, including hiking, camping, fishing and kayaking. During the high-water season, Hayfork Creek attracts expert kayakers who challenge the class IV-V whitewater, and Forest Service officials have recommended Hayfork for Wild and Scenic River protection. Pattison trails used by today's hikers once served as key transportation routes for local tribes and early pioneers.
Another important feature of Pattison's forest is fire. Every ecological nook and cranny of the Pattison landscape cries out for fire, and in 2015 Pattison's forest burned again, as it has for millennia. This time the Forest Service focused on protecting ranches and homes that lie outside the proposed wilderness. The fire hopped around, burning hot in a few places but not in most parts of the forest.
Fire is an essential part of many wild landscapes. The Forest Service (and the public) have faced a steep learning curve when it comes to the ecological lessons that fire teaches. The Pattison landscape is a fine example of how wilderness and fire coexist on the land — each essential to the other. Wilderness creates big, wild places where fire can roam free. Fire restores forests, rejuvenating plants and trees and creating productive fish and wildlife habitats. By designating the Pattison Wilderness, Congress will acknowledge that it has nothing to fear from fire in wilderness.
Wilderness designations for Moonlight Dome, Browns Canyon, Pattison and the other proposed wilderness areas will provide numerous benefits. One of the bill's sponsors, Congresswoman Diana DeGette, D-Colo., believes H.R. 2546 is an important step toward meeting the goals of the Global Deal for Nature, which calls for protecting 30 percent of Earth's ecosystems by 2030. The Global Deal for Nature is a science-driven plan to preserve diversity and avoid catastrophic climate change. As DeGette has said, "Preserving more of our public land is one of the best short-term solutions we as a nation can take to respond to the climate crisis."