Trump Administration Seeks to Cut Environmental Reviews
The Trump administration this week released a plan to roll back environmental reviews and opportunities for public input for a wide range of projects on national forests, including major logging operations.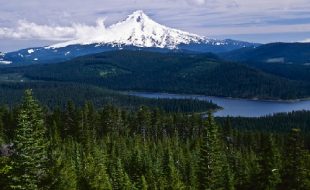 In a statement released on Wednesday, Secretary of Agriculture Sonny Perdue said the move is necessary to allow the Forest Service to more efficiently undertake "restoration" work on national forests, mainly to lessen the risk of wildfires.
"We are committed to doing the work to protect people and infrastructure from catastrophic wildfire," Perdue said. "With millions of acres in need of treatment, years of costly analysis and delays are not an acceptable solution—especially when data and experience show us we can get this work done with strong environmental protection standards as well as protect communities, livelihoods and resources."
The proposal would greatly expand the scope of projects that could be granted "categorical exclusions" under the 1970 National Environmental Policy Act, meaning that they would be exempt from comprehensive environmental reviews. The Trump administration says that doing so will reduce the time required to complete projects "by months or years."
A news release listed the types of projects that would be granted categorical exclusions as "restoration projects, roads and trails management, and recreation and facility management, as well as special use authorizations that issue permits for outfitters and guides, community organizations, civic groups and others who seek to recreate on our national forests and grasslands."
Conservationists blasted the plan and vowed to fight it in court.
"This proposed rule is an affront to our national forests and their owners—the American people," said Alison Flint, director of litigation and agency policy at The Wilderness Society. "It would gut important procedural safeguards for our most sensitive forest lands and resources, including roadless and other wildlands that provide our drinking water, wildlife habitat, and unmatched recreation opportunities."