It's Official: Devil's Staircase Protected as Wilderness
President Trump signed into law today a multifaceted public lands bill that at long last creates the Devil's Staircase Wilderness Area in the rugged mountains of southwest Oregon's Coast Range, a designation FSEEE has sought for more than a decade.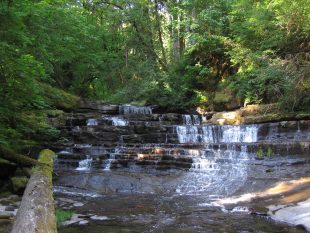 Yesterday, FSEEE Executive Director Andy Stahl participated in a podcast with Ore. Sen. Ron Wyden and others to celebrate the long-sought designation.
The new wilderness area, which will be jointly managed by the Forest Service and the Bureau of Land Management, lends permanent protection to more than 30,000 acres of spectacular old-growth forest that surround the falls.
No trail leads to the storied falls, which sluice over a series of steps formed by sedimentary rocks. Access requires an arduous, hours-long bushwhack through steep terrain and tangled vegetation.
Andy, who is among the relatively few who have visited the falls, described the area's splendor during the podcast, which was produced by the Salem Statesman Journal newspaper.
"It's as wild as wild can get," Andy said. "What I always take back from that area is green. Everywhere is green. The forest floor is green, the vine maple and the salmonberry and the huckleberry. It's all green."
Wyden, who has advocated for the wilderness designation along with fellow Oregon Sen. Jeff Merkley and Ore. Rep. Peter DeFazio, praised lawmakers on both sides of the aisle for supporting the move.
"There are certain treasures that we want to make sure are gonna be there not just for this month and next month but for our kids and our grandkids," Wyden said during the podcast.