Groups Sue Forest Service Over Grazing
A pair of environmental groups is suing the Forest Service for approving livestock grazing in an area of southwest Colorado that is home to bighorn sheep.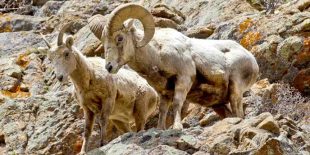 In establishing a new grazing allotment for domestic sheep in the San Juan Mountains, officials with the Rio Grande National Forest have imperiled several herds of bighorn sheep, the lawsuit alleges. Domestic sheep carry a pathogen that causes a deadly pneumonia when transmitted to wild sheep. There is no cure or vaccine for the disease.
"The science is overwhelmingly clear that the biggest risk to bighorn health is the diseases spread by domestic sheep grazing in and near bighorn habitat," said Jonathan Ratner of Western Watersheds Project. "The newly created allotment merely pushes the same old problem into new places without adequately ensuring bighorn will be safe from domestic sheep."
The group WildEarth Guardians joined Western Watersheds Project in filing the suit.
Forest Service officials had previously closed portions of the Rio Grande National Forest to grazing due to possible harm to bighorn sheep, which is Colorado's official state animal.
Bighorn and domestic sheep often wander many miles. They are closely related and are known to seek each other out, making disease transmission likely when they are in close proximity. Once a herd is infected, those sheep can transmit the disease to other herds.
In approving the new allotment, the lawsuit alleges, the Forest Service violated the National Environmental Policy Act and the National Forest Management Act.