Objections Filed to Alaska Logging Plans
Conservation groups have filed extensive objections to a plan to log thousands of acres of the Tongass National Forest over a 15-year period.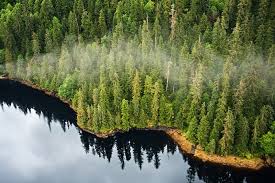 An 85-page objection letter prepared by Earthjustice on behalf of nine conservation organizations describes the plan for logging on Prince of Wales Island "the largest logging project in the entire country in more than a generation."
In a draft decision released last fall, the Forest Service proposes cutting as much as 235 million board feet of timber on the island. Agency officials say the "Prince of Wales Landscape Level Analysis Project" is designed to improve ecosystem health and to boost the local economy. Just one medium-sized mill remains in operation in Southeast Alaska.
The Earthjustice objection letter claims the Forest Service's environmental analysis of the project fails to specify where the logging will take place. It also says the project will harm the region's wildlife, including Alexander Archipelago wolves, Sitka black-tailed deer and Queen Charlotte goshawks.
One of the groups signing onto the Earthjustice letter, Defenders of Wildlife, filed its own objection with the Forest Service last week.
In November, a federal court rejected a Forest Service proposal to log 1,700 acres in the southern part of the Tongass.