Old-Growth Logging Proposed for Tongass
Forest Service officials today released a draft decision that calls for carrying out large-scale old-growth logging on Alaska's Tongass National Forest over the next 15 years.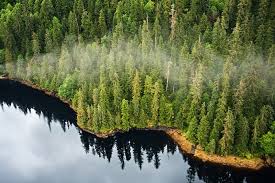 As much as 235 million board feet of timber could be cut on Prince of Wales Island. Conservationists were quick to condemn the proposal, saying it flies in the face of a Forest Service policy of phasing out old-growth logging on the Tongass in coming years.
In unveiling the plan, Forest Service officials said it is designed to improve ecosystem health as well as assist the local economy. Only one medium-sized mill remains in Southeast Alaska. Most of the timber that is currently cut there is exported as raw logs.
"There's no evidence that anything would be milled locally," Pat Lavin, of Defenders of Wildlife, told the radio station KTOO. "At least that hasn't been the trend and isn't what one would expect out of this sale either."
The Tongass National Forest, the largest in the United States, comprises the world's largest remaining temperate rainforest in the world.
Today's announcement opens a 45-day objection period for the "Prince of Wales Landscape Level Analysis Project."