Feds Shelve Oil and Gas Leases—For Now
Faced with criticism from top Colorado officials, the Trump administration last week backed away from plans to open nearly 150,000 acres of public land in the state to oil and gas drilling.
Colorado Gov. John Hickenlooper and Sen. Michael Bennet, both Democrats, had urged U.S. Department of the Interior officials to withdraw the land from potential oil and gas development due to its impact on greater sage grouse.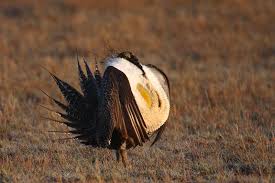 In a letter sent this summer to acting Bureau of Land Management Director Gregory Shoop, Hickenlooper noted that federal, state and local officials are working on an amendment to a management plan designed to protect the rare ground-dwelling birds, known for their elaborate mating displays.
"Given the amount of (sage grouse) habitat potentially impacted by this sale, and the plan amendment process currently underway," Hickenlooper wrote, "we request that any parcels in (sage grouse) habitat be removed from this sale until the (amendment) is finalized."
The BLM still plans to offer about 75,500 acres, outside of sage grouse habitat, for lease at a Dec. 13 auction. BLM officials said the acres withdrawn last week could be reopened for leasing at some point in the future.
Hickenlooper and Bennet also pointed to possible impacts of oil and gas drilling on other types of wildlife, and to concerns expressed by local residents about a lack of opportunity for public comment.