Feds Clear Way for Mineral Exploration Near Boundary Waters
The Trump administration today rejected a proposed 20-year ban on mining in the watershed of the Boundary Waters Canoe Area Wilderness, clearing the way for mineral exploration on the Superior National Forest in northern Minnesota.
The decision allows mining companies to search for minerals such as copper and nickel on 234,000 acres abutting the wilderness area. No mining activity would be allowed within the wilderness itself.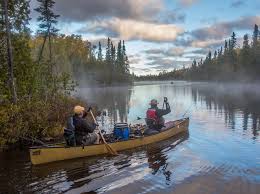 "It's our duty as responsible stewards of our environment to maintain and protect our natural resources." Secretary of Agriculture Sonny Perdue said. "At the same time, we must put our national forests to work for the taxpayers to support local economies and create jobs. We can do these two things at once: protect the integrity of the watershed and contribute to economic growth and stronger communities."
Conservationists contend that mining would threaten the pristine lakes and waterways within the wilderness. They point to findings by the Obama administration, which proposed withdrawing the area from mineral exploration, that mining in the region "could lead to irreversible impacts upon natural resources."
The Forest Service had been conducting an environmental review of proposed mining in the area. In a press release issued today, the Trump administration said that "the analysis did not reveal new scientific information." Conservationists, however, say the promised review was never completed.
"The Trump administration broke its word to us, to Congress, and to the American people when it said it would finish the environmental assessment and base decisions on facts and science," said Alex Falconer, executive director of the Campaign to Save the Boundary Waters. "It's clear whose interest this administration is really serving, and it's not that of the American people."
Earlier this year, the Trump administration renewed leases to Twin Metals Minnesota, which wants to build a mine and ore-processing facility next to the wilderness area.