FSEEE Featured in Public Radio Report on Wildfires
Former FSEEE board member Rich Fairbanks is quoted extensively in an in-depth Oregon Public Broadcasting report that examines the disconnect between politics and the best science regarding wildfires.
Fairbanks, a retired Forest Service employee and firefighter, took OPB reporters on a field trip of an area that burned last summer on the Rogue River-Siskiyou National Forest, near the Oregon-California border.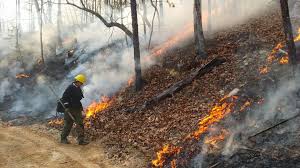 He pointed out ways in which the forest was rejuvenating and how the fire died out after reaching an area that had burned a few years previously.
"What they had was a very gentle kind of fire," Fairbanks says in the report. "It just all around was a good fire in many ways."
The segment, by OBP reporters Cassandra Profita and Jeff Mapes, emphasizes extensive research showing the benefits of prescribed fires and of letting some wildfires burn when conditions are relatively cool and moist.
Politicians, however, are loath to embrace the position that fire is an inevitable (and necessary) component of western forests. The OPB piece notes that Oregon Sen. Ron Wyden, a leading voice on wildfire issues, declined to be interviewed about the merits of using fire as a management tool.
Says Fairbanks: "Our knowledge of fire proceeds forward, and there's always a lag between what we know and what the general public understands. And even lagging behind that is what the politicians are willing to act on."
FSEEE Executive Director Andy Stahl is also quoted in the OPB report.