Forest Service Reins in Target Shooting in Washington State
After years of complaints by residents of a small mountain community in Washington state, the Forest Service announced this week that it will close a nearby site to target shooting.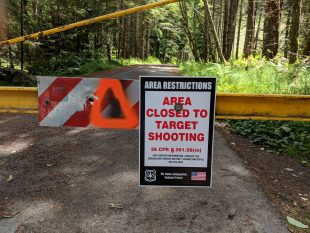 The site, known as the "7013 pit," is south of the community of Greenwater and adjacent to the Crystal River Ranch subdivision. Residents say bullets have whizzed into their neighborhood and that the sound of shooting is nearly constant.
Jamie Kingsbury, supervisor of the Mt. Baker-Snoqualmie National Forest, signed the closure notice on Monday. It will be in effect for one year. Forest Service officials are undertaking a broader review of recreational shooting on the national forest.
Officials with the Mt. Baker-Snoqualmie National Forest tried to work with shooters to address safety concerns at the site, and to limit the amount of trash and makeshift targets left behind by some shooters. They realigned parking at the site to encourage shooters to fire into an earthen backstop.
Those efforts largely failed, according to Martie Shramm, chief ranger for the district that includes the 7013 pit.
"The amount of trash being left behind, the amount of destruction occurring to the natural environment as well as an overall public safety concern — that caused us to close the location to target shooting," Shramm told the Seattle Times.