Lawsuits Filed Over Minnesota Mining Proposal
In a trio of lawsuits, businesses and conservation groups are challenging a Trump administration decision to reinstate two expired mineral leases that could clear the way for industrial copper mining on the border of Minnesota's Boundary Waters Canoe Area.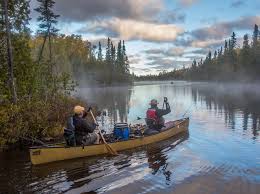 Twin Metals Minnesota, a subsidiary of a Chilean mining conglomerate, wants to build a mine and ore-processing facility on the Superior National Forest, within the BWCA's watershed. Department of Interior officials announced they were renewing the leases last month, reversing an Obama administration decision to let them expire.
The company wants to process ore less than half a mile from Birch Lake, which feeds directly into the BWCA.
In one of the lawsuits, filed last Thursday, nine businesses that rely on tourism to the BWCA allege that allowing mining operations so close to the nation's most-visited wilderness area would cause "severe and irreparable harm."
Steve Piragis, owner of Piragis Northwoods Company, an outfitter based in Ely, Minn., said in a statement that mining near the BWCA would drive customers away.
"They will stop using substantial areas of the Boundary Waters, including important entry points and major canoe routes," Paragis said. "Others will cease to visit at all because it will no longer be the place they love and remember."
Three conservation groups—the Wilderness Society, the Center for Biological Diversity and the Izaak Walton League—filed a separate lawsuit yesterday. The Minneapolis-based Friends of the Boundary Waters Wilderness filed a third lawsuit.
In a December, 2016 letter to the Bureau of Land Management, then-Forest Service Chief Tom Tidwell said his agency had good reason to decline to renew the leases.
"I find unacceptable the inherent potential risk that development of a regionally-untested copper-nickel sulfide ore mine within the same watershed as the (BWCA) might cause serious and irreparable harm to this unique, iconic, and irreplaceable wilderness area," Tidwell wrote.
President Trump held a campaign-style rally last week in Duluth, not far from the BWCA. He told supporters that his administration will reverse the Obama-administration position of protecting the BWCA's watershed from mining.
"America's rich natural resources, of which your state has a lot, were put under lock and key," Trump said. "It is going to happen, I will tell you."