Trump Administration May Waive Roadless Rule on Tongass
The Trump administration is working with Alaska state government officials on plans to exempt the Tongass National Forest from a rule that forbids new road construction in wild areas.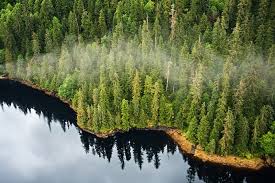 Forest Service interim Chief Vicki Christiansen said in congressional testimony earlier this week that Secretary of Agriculture Sonny Perdue spoke with Alaska Gov. Bill Walker about the issue last Friday.
"They agreed to pursue a state-specific roadless rule to address the concerns as swiftly as possible on the Tongass National Forest and the access for timber, energy development and many other forms of access on the Tongass," Christiansen said, answering questions from Alaska Sen. Lisa Murkowski, who chairs the Senate's Energy and Natural Resources Committee.
In January, Alaska officials filed a petition with the Trump administration asking that the state be exempted from the Roadless Area Conservation Rule, which protects more than 58 million acres of national forests across the country, including 9.3 million acres on the Tongass, the largest national forest in the United States.
Christiansen's comments came near the end of a hearing about the 2018 wildfire season. Pressed by Murkowski, the interim chief indicated that the Forest Service is taking the petition seriously.
"We are working closely with the state to align the resources to get started immediately," Christiansen said. "The Forest Service (has) identified funding and, actually, the resources and people and staffing and expertise to get started."
Alaska officials have sought an exemption from the roadless rule since its inception in 2001. In 2003, the Bush administration issued an exemption for the Tongass. Conservationists sued, prompting a lengthy legal battle that culminated in a U.S. District Court decision last year upholding the roadless rule.
"It's certainly my hope that whatever that process looks like, it does not result in anything that's less than a full exemption from the roadless (rule) for the Tongass," Murkowski said at Tuesday's hearing.
Murkowski said she wants to meet with Christiansen and Perdue to discuss the issue further.