Bill Would Allow Mountain Bikes in Wilderness Areas
Utah Sen. Mike Lee has introduced a bill that would open wilderness areas to mountain bikes, matching similar legislation making its way through the House of Representatives.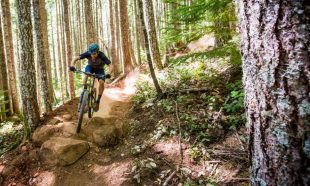 Lee's bill would give federal land managers a two-year window to determine whether mountain bikes would be allowed on trails in designated wilderness areas. If they fail to make a determination within that window, trails would be open to bicycles by default.
The bill would amend the 1964 Wilderness Act, which bans "mechanical transport." Dozens of conservation groups are fighting the proposal.
"Americans value wilderness areas for their solitude, tranquil pace and natural character," said Michael Carroll of the Wilderness Society. "Senator Lee, in his latest attack on public lands, seeks to water down those values."
Lee's bill has been referred to the Senate Committee on Energy and Natural Resources. No hearings have been scheduled.