Feds to Remove Mountain Goats from Olympic Peninsula
Non-native mountain goats in Washington state's Olympic National Park may soon get one-way tickets across Puget Sound to the Cascade Mountains.
The National Park Service, in coordination with the Forest Service and the Washington State Department of Fish and Wildlife, today released a final environmental impact statement that calls for eliminating mountain goats from the Olympic Peninsula. Wildlife biologists believe as many as 725 goats live in the national park and the adjacent Olympic National Forest.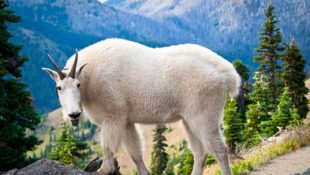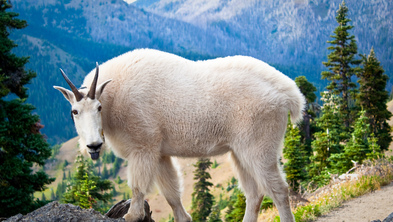 The goats trample native plants and have grown increasingly aggressive toward humans, park officials say. The goats crave salt, which does not occur naturally on the peninsula.
"Mountain goats can be a nuisance along trails and around wilderness campsites where they persistently seek salt and minerals from human urine, packs, and sweat on clothing," the environmental impact statement says. "They often paw and dig areas on the ground where hikers have urinated or disposed of cooking wastewater."
Goat-human encounters can be deadly. In 2010, a large male gored a park visitor, killing him.
Officials hope to capture about half of the Olympic goats and relocate them to the North Cascade Mountains, where they are native. Goats are scarce in the Cascades due to decades of overhunting. Wildlife biologists hope the addition of the Olympic goats will help that population grow.
Mountain goats on the Olympic Peninsula that can't be captured will be shot and killed, according to the plan.
Goat populations in the Olympics grew rapidly after hunting enthusiasts released about a dozen in the 1920s. By the early 1980s the population exceeded 1,000.
Park officials subsequently removed more than 400 mountain goats, and hunters killed more than 100 more outside of the park. But the goats' numbers rebounded. Wildlife biologists believe the population is increasing by about 8 percent each year.
The plan released today calls for using helicopters to remove the goats during two-week periods in the summer. Park officials believe the program will take three to five years to complete.