Agency Releases Plan to Protect Fragile Rocky Mountain Lake
Forest Service officials in Colorado this week released a plan to implement visitation restrictions for Hanging Lake, a turquoise-tinted pond in the Rocky Mountains and one of the most popular hiking destinations in the state.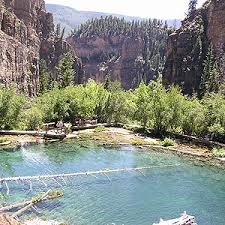 As many as 1,000 people visit the lake each day during peak season, following a 1.6-mile trail north of Interstate 70. The heavy use has degraded the lake's fragile ecosystem. A rule forbidding dogs at the lake is often ignored, as is a no-swimming provision.
The lake's shoreline and bed are composed of a form of limestone called travertine.
The draft decision calls for limiting daily visitation to 615 people per day, using a fee or permit system. Shuttles would transport hikers to and from the trailhead from May 1 through Oct. 31.
"We've still got some work to do, but we're looking forward to implanting these new changes at Hanging Lake this year," District Ranger Aaron Mayville said.
The White River National Forest, where Hanging Lake is located, is the most-visited national forest in the country. White River officials recently implemented user-restriction rules for Conundrum Hot Springs, another popular destination off Interstate 70.