Trump Guts Utah Monuments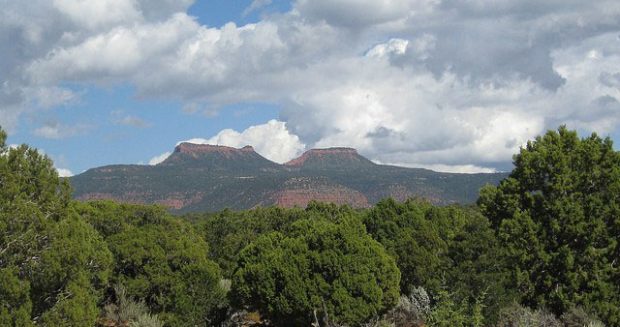 Donald Trump signed a pair of proclamations today that would shrink two national monuments in Utah in what would be the largest rollback of federally protected land in American history.
Speaking in Salt Lake City, the president announced that his administration would lop more than two million acres from the Bears Ears and Grand Staircase-Escalante national monuments.
He criticized previous presidents for what he labeled their abuse of the 1906 Antiquities Act, which allows the president and Congress to protect federal land by creating national monuments. Over the decades, Democrat and Republican presidents have used the act to protect millions of acres of federal land.
"These abuses of the Antiquities Act give enormous power to faraway bureaucrats at the expense of the people who actually live here, work here, and make this place their home," Trump said.
Trump's proclamations would reduce the size of Bears Ears National Monument by more than 85 percent, from 1.5 million acres to 220,000 acres. President Obama created the national monument in the waning days of his administration. The size of the Grand Staircase-Escalante National Monument, which was created by President Clinton in 1996, would shrink from 1.9 million acres to roughly 1 million acres.
The Navajo Nation, one of several tribes that consider Bears Ears to be sacred ground, vowed to challenge Trump's proclamations in court. Conservationists and other tribes also plan legal challenges, in a case that many observers believe will ultimately be decided by the Supreme Court. Many legal experts believe only Congress has the authority to rescind a national monument designation.
"We will stand and fight all the way," Russell Begaye, the Navajo Nation's president, told the New York Times.
In announcing the action, Trump shared the podium at times with Utah senators Orrin Hatch and Mike Lee. Utah's congressional delegation has railed for years against what they view as federal overreach in their state.
Last April, Trump ordered Interior Secretary Ryan Zinke to review more than two dozen national monuments created since 1996.
Other national monuments that are reportedly on the chopping block include Gold Butte in Nevada and Cascade-Siskiyou in Oregon and California, as well as two Pacific Ocean preserves.
The Bears Ears National Monument is jointly managed by the Forest Service and the Bureau of Land Management. The Grand Staircase-Escalante National Monument is administered by the BLM.