Study: Murrelet Decline Continues
More than an 80 percent chance the birds will disappear from Oregon.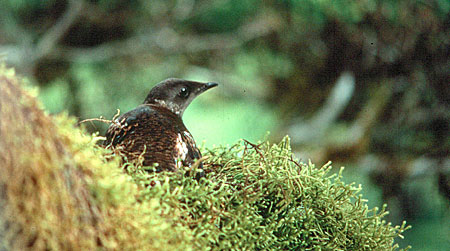 Marbled murrelets, the diminutive seabirds that fly inland to lay eggs high in the crooks of old-growth Northwest forests, will likely go extinct in Oregon in coming years if no action is taken to help them, according to the state's Department of Fish and Wildlife.
A draft review of the bird's status in the state estimates that there is more than an 80 percent chance that murrelets will disappear from Oregon by the end of the century, given current trends.
The department is undertaking the review in response to a petition from conservation groups to change the bird's status under the state's Endangered Species Act from "threatened" to "endangered." That move would require more vigorous protection measures for murrelets.
Like northern spotted owls, marbled murrelets are highly reliant on healthy Northwest old-growth forests for survival. They are considered an indicator species for the overall health of that ecosystem.
Over the past century, old-growth forests flanking the Pacific Ocean have been aggressively logged, leaving only isolated pockets of virgin stands. Murrelets don't build nests, but rather lay their eggs on moss and other vegetation draping across the branches of soaring conifers.
Biologists have difficulty estimating how many murrelets remain in Oregon, due to their low numbers and wide dispersal. The Oregon Department of Fish and Wildlife estimates about 11,000 of the birds remain in the state, but acknowledges that the actual number may be fewer than 2,300.
Most of the remaining nesting habitat for the birds in the state is on public lands, including the Siuslaw and Rogue River-Siskiyou national forests. The draft report estimates that from 1993 to 2012, more than 59,000 acres of high-quality nesting habitat was lost on private and state forestlands in Oregon, a decline of 21 percent.
Murrelets have a low reproduction rate, and their eggs are vulnerable to predation by ravens, crows and jays, which thrive in areas of high human activity. They face many other threats, as well, including the danger of oil spills. A spill in 1999 near Coos Bay, Oregon, killed more than 250 murrelets.
California and Washington already list murrelets as endangered.
The groups that filed the petition include Cascadia Wildlands, the Audubon Society of Portland, the Center for Biological Diversity, Oregon Wild, Coast Range Forest Watch and the Oregon Chapter of the Sierra Club.
"While federal laws have stabilized habitat loss on federal lands, the state of Oregon has continued to allow logging of older forests at an alarming rate and failed to adequately address new threats to the species," Bob Sallinger, conservation director for the Audubon Society of Portland, said in a statement. "Changing the murrelet's status to endangered will help ensure that Oregon takes the steps necessary to do its part to save this species."