Ousted Montana District Ranger Gets His Post Back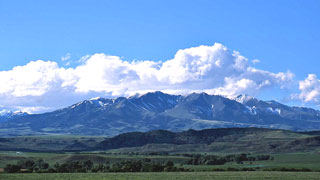 A Forest Service district ranger in Montana who had been reassigned after tussling with local landowners over access to national forest land will get his job back after an internal review, according to a report in the Bozeman Daily Chronicle.
Alex Sienkiewicz had served as Yellowstone district ranger on the Custer Gallatin National Forest since 2011. The district includes the Crazy Mountains, an isolated range in the national forest that is largely surrounded by private land.
Controversy over access to the national forest land in the Crazies has simmered for decades. The Forest Service maintains it holds "prescriptive easements" for routes crossing private land to access the public land beyond, established by a long history of continuous use. Private landowners consider people who use those routes to be trespassers.
Sienkiewicz has been vocal in his support for maintaining public access to those routes. Last year, a memo he wrote to his staff affirming that position was posted on an advocacy group's website.
"NEVER ask permission to access the national Forest Service through a traditional route shown on our maps EVEN if that route crosses private land," Sienkiewicz wrote.
That's the same position the Forest Service has held for many years. If landowners can prove in court that Forest Service employees or others have asked permission to use those routes, according to agency officials, those prescriptive easements could be extinguished.
This May, a group of local landowners wrote a letter to Montana Sen. Steve Daines and to Agriculture Secretary Sonny Perdue complaining about the memo.
"We would request that you use the full power and authority of your offices to investigate and determine whether this FS Ranger has been acting in congruence with FS policy and his job duties," the landowners wrote, "when he has been instigating conflict and encouraging criminal actions by members of the public against private property owners in order to try to establish public access across private land."
In June, Texas Rep. Pete Sessions wrote to Perdue and Interior Secretary Ryan Zinke and accused the Forest Service of going "rogue." Sessions wrote that one of his constituents, who owns a ranch near the Crazy Mountains, "has extensive, firsthand experience with the war on private property owners conducted by the Obama Administration."
Sienkiewicz was assigned to a desk job shortly thereafter, and an internal investigation was launched.
A Forest Service spokesperson declined to comment about the findings of the investigation to the Bozeman Daily Chronicle, saying doing so would violate Sienkiewicz's privacy. Sienkiewicz will return to his post as Yellowstone district ranger on Oct. 23, according to the newspaper's account.