Videos Show Aftermath of "Catastrophic" Wildfire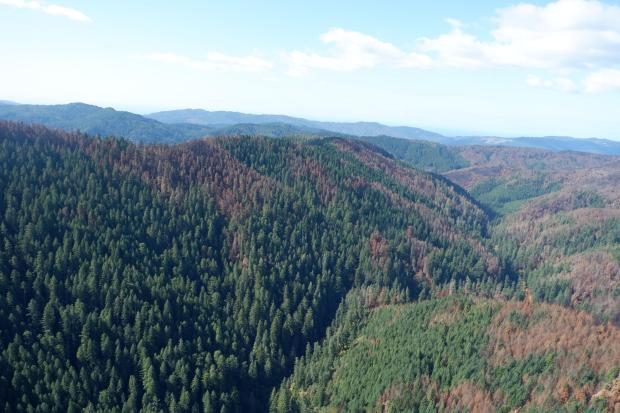 On September 26, federal firefighting managers boarded a helicopter and embarked on a flyover of the Chetco Bar Fire in southwestern Oregon, which at one point this summer was considered the top-priority wildfire in the nation.
The fire, which burned nearly 200,000 acres, had largely gone out. As they flew over the rugged terrain, the officials recorded video of what they saw below, and offered a running commentary.
The videos give a firsthand look at the aftermath of a "catastrophic" wildfire and expert interpretation of how it burned. Even to an untrained eye, the rolling landscape below is far from a wasteland.
"You can see there's a little patch of a little bit higher intensity (burn) but pretty much surrounded by all green," narrated Reggie Bray, operations chief for the fire, in one video as the helicopter passed over a ridge.
The videos make clear that the Chetco Bar fire burned in a classic mosaic pattern, with blotches of dead forest and scorched earth surrounded by green standing forest.
This year has been an active fire season in the West, with smoke smothering urban valleys for days at a time. More than 8.5 million acres have burned across the nation. Over the past decade an average of 6 million acres have burned each year.
The Forest Service was the target of widespread criticism from western residents who complained that the agency wasn't doing enough to fight the fires.
Another video shows the nearby Indigo Fire. Barry Schullanberger, another operations chief, remarks on the area's steep topography and the lack of escape routes for firefighters.
"It wasn't safe to put (firefighters) in there," he says. "(It was a) good management decision to not staff the fire."