Senator Calls Out Errors in National Monument Report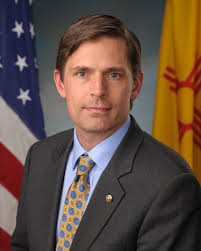 The Trump administration's plan to roll back national monument designations was blasted this week by New Mexico Sen. Martin Heinrich, who, during a congressional hearing, pointed out several factual errors in a report issued by Interior Secretary Ryan Zinke.
Heinrich, a Democrat, listed errors in Zinke's report during an exchange with a Bureau of Land Management official at a Senate Energy and Natural Resources Committee hearing.
The factual errors involve two national monuments managed by the BLM in New Mexico—the Rio Grande del Norte National Monument and the Organ Mountains-Desert Peaks National Monument.
Zinke's report, leaked to the media last weekend, calls for management changes at the two monuments. Regarding the Rio Grande del Norte National Monument, the leaked report notes that "road closures due to monument restrictions have left many grazing permittees choosing not to renew permits."
Not true, Heinrich told John Ruhs, the BLM's acting deputy director of operations.
"I confirmed with BLM staff that that's not accurate," Heinrich said during the hearing. "And that ranchers have stopped ranching there because of those non-existing road closures. Also not true."
The report further claims that the Organ Mountains-Desert Peaks National Monument abuts the U.S.-Mexico border. In fact, Heinrich pointed out, the monument's boundary lies five miles north of the border.
Heinrich went on to criticize the report for suggesting that management changes are needed to protect hunting and fishing rights at the two monuments.
"I've had the opportunity, in fact, to hunt everything from Mearn's quail to javelina in the Organ Mountains-Desert Peaks National Monument," Heinrich told Ruhs. "In addition, Petersen's Hunting magazine just last month listed that monument as one of the top ten public land destination hunts in the nation for quail."
Heinrich said he was "incredibly concerned" to see factual errors in the controversial report, which calls for shrinking four national monuments.
The senator asked Ruhs if local BLM officials were consulted as the report was being prepared. They were not, Ruhs answered.
"We provided information as requested," Ruhs said. "And again, that's the limit of our involvement."