Unleashing the SuperTanker?
Company launches aggressive public relations campaign for feds to use 747 against wildfires.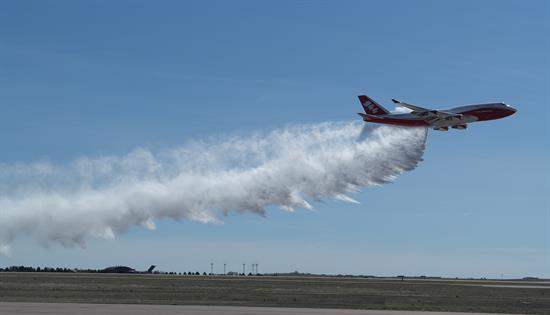 Global SuperTanker Services, LLC, a subsidiary of a Connecticut equities firm, says it has what it takes to put out wildfires. The company owns the largest firefighting aircraft on the planet, a retrofitted Boeing 747 that can dump huge quantities of fire retardant, or water, on the most troublesome wildfires burning across the West.
The company has launched an aggressive public relations campaign, arguing that obtuse government regulations are keeping its massive plane grounded as homes are destroyed and lives threatened.
Dubbed the Spirit of John Muir, the 747 can dump nearly 20,000 gallons of water or retardant in a single drop. That's nearly twice as much as the next-biggest airtanker.
In recent weeks, residents in smoke-filled valleys throughout the West have expressed outrage that the federal and state agencies that are fighting the blazes have not called on the SuperTanker. Fire officials, however, say a variety of factors, including rugged terrain and heavy smoke, make using the aircraft impractical.
Global SuperTanker Services is a subsidiary of Alterna Capital Partners, which is headquartered in Wilton, Connecticut. Its executives have not been shy about fanning the flames of indignation that officials have not deployed the plane.
The company lacks a contract from the federal government to conduct airdrops for the Forest Service and other agencies. Company officials say the government has intentionally written specifications for contracts to preclude aircraft with the SuperTanker's large carrying capacity.
An email obtained by FSEEE, written by an executive of the company, illustrates the tack the firm is taking in lobbying for a contract.
The message was sent earlier this summer by Andrea Avolio, vice president for contracts and planning for Global SuperTanker Services. Avolio sent the message to a woman who had expressed concerns about the Chetco Bar wildfire in southwestern Oregon, which was sparked by lightning on July 12 and has burned nearly 190,000 acres.
"My heart churned when I saw the news about a resident … and his home being destroyed," Avolio wrote. "The fire really appeared as though it could have been controlled via air prior to that incident."
In her email, Avolio expressed optimism that "(a)mazing public pressure to use us" would prompt the Forest Service to approve use of the plane.
"Granted," she wrote, "we must first be issued a contract."
Avolio concluded her note to the woman with a call to action.
"We will continue to stand available and be ready to help our Oregon communities effected (sic) by this fire, and we will do so if we are allowed to," she wrote. "Contact your local and state reps and demand air support from the SuperTanker."
Reached earlier this week by phone, Avolio declined to elaborate on the email. "I think it pretty much speaks for itself," she said.
The same message has been voiced by Jim Wheeler, Global SuperTanker Service's president and CEO. Earlier this summer, in an interview with conservative talk radio host Lars Larson, he railed against a Forest Service request for proposals. That document specifies that the agency is seeking aircraft with tank capacities of 3,000 to 5,000 gallons.
"It's just a matter of insanity that is very, very difficult to get over," Wheeler told Larson. "If anybody thinks the swamp has been drained yet, the answer is 'no.'"
Wheeler went on to ask for the public's assistance in persuading the Forest Service to use the SuperTanker.
"We need some help, frankly," he said. "If your listeners out there are willing to either write their congressmen, senators, let the Forest Service know you have an interest in seeing the SuperTanker fly, we would appreciate it."
The company has retained Strategies 360, a Seattle-based public relations firm with an office in Washington, D.C., to help make its case.
The SuperTanker is based in Colorado Springs, Colorado. Currently, though, it is stationed at McClellan Air Base near Sacramento. It flew its first domestic firefighting mission on the night of August 30, when the California Department of Forestry and Fire Protection (Cal Fire) issued the company a "call when needed" contract. The plane dropped 8,500 gallons of retardant on the Ponderosa Fire, east of Lake Oroville. (The plane has also flown missions in Israel and Chile in the past year.)
Scott McLean, Cal Fire's deputy chief, said the aircraft has flown 15 sorties for the agency so far on fires in northern and southern California. Its agreement with the company calls for having the plane at Cal Fire's disposal for a three-day period at a cost of $165,000, plus $16,500 for each hour of flight time.
McLean said Cal Fire will evaluate the 747 through 2018 to determine if the agency wants to make it a permanent component of its firefighting arsenal.
He described it as a "tool in the toolbox" and said it's too early to tell whether the aircraft will prove effective over the long term.
"We've only had it for a very short time," he said. "It's done its job in terms of bringing product to the fire."
Global SuperTanker LLC was formed in 2015, according to an account published in The Colorado Springs Business Journal. At the time, it had eight employees, according to the newspaper, all of whom had worked for the Oregon-based Evergreen International Airlines, a cargo airline that declared bankruptcy in 2013.
Company officials say their plane is much more maneuverable than people assume, and can fly in mountainous terrain. When considered on a per-gallon basis, they say, it is more cost-effective than smaller airtankers. They say it is unique in that it can reach any corner of the continent in just a few hours.
The company's Facebook page includes several comments from residents of the West who want to see the SuperTanker used on fires near their homes.
"Sisters Oregon is close to … burning, structures being destroyed and the state of Oregon is not releasing the global supertanker to take care of this fire!" one post reads.
Federal fire officials, however, say there are often very good reasons why airtankers, let alone ones as big as the SuperTanker, are not called on to drop retardant or water on fires.
For one, airtankers are expensive to operate. Their use also carries a high degree of risk. Since 2001, 22 pilots and crewmembers have been killed in accidents, according to federal statistics.
Fire officials say airtankers are usually not used to put out fires, but rather to slow their advance and lessen their intensity. Retardant drops work best, they say, in support of firefighters on the ground. If ground forces are not able to access a fire due to rugged terrain or safety concerns, officials say, retardant drops are of little use.
In Oregon, some members of the public have called for the use of the SuperTanker to battle the Eagle Creek Fire, which has burned more than 40,000 acres in the scenic, much-visited Columbia River Gorge on the Mount Hood National Forest.
Jim Whittington, public information officer for the fire, said no airtankers have been used on the fire, for a variety of reasons, including heavy smoke and rugged terrain. Fire officials have used heavy helicopters, he said, which can drop water and retardant on a particular spot.
"The verticality here in the Gorge in terms of topography is just unreal," he said. "It's just not a good fit for airtankers."