Zinke: Trump Should Trim "A Handful" of National Monuments
The administration has not yet said which monuments are on the chopping block.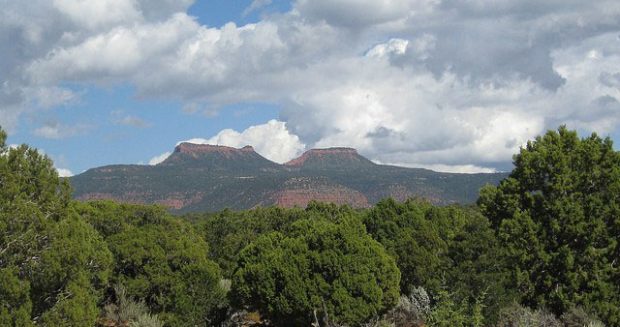 No national monument designations will be rescinded but the Trump administration should shrink the size of a "handful" of monuments, Interior Secretary Ryan Zinke said today in comments to the Associated Press.
Today is the deadline for Zinke to send a report to Trump after a four-month review of national monuments created by the past three presidents under authority of the 1906 Antiquities Act. The White House did not release Zinke's full report and said only that it is reviewing his recommendations.
A two-page "summary" of the report, released by the Interior Department earlier today, does not say which national monuments may be trimmed, or by how much.
The summary acknowledges that public comments regarding the monument review were "overwhelming in favor" of keeping existing national monuments as they are. But the summary attributes that support to "a well-orchestrated national campaign organized by multiple organizations."
The lack of specifics did not sit well with conservationists, many of whom have pledged to launch a court battle if the administration tries to trim national monument borders.
"More than 2.7 million Americans told Secretary Zinke what they think—the least he can do is return the favor," said Jennifer Rokala, executive director of the Center for Western Priorities, in a statement. "This secrecy shows the Trump administration knows their attack on national monuments is wildly unpopular. If Secretary Zinke expects Americans to be thankful because he wants to merely erase large chunks of national monuments instead of eliminating them entirely, he is badly mistaken."
The review, required by an executive order signed by Trump in April, examined 27 national monuments of at least 100,000 acres created since 1996 by presidents Clinton, Bush and Obama.
Zinke has singled out Utah's Bears Ears National Monument, created by Obama in the waning days of his administration, as being a prime candidate for downsizing.
The summary released today says that some monument designations "were either arbitrary or likely politically motivated or boundaries could not be supported by science or reasons of practical resource management." Trump has characterized national monument designations made by Obama as a "massive federal land grab."
Diminishing the size of national monuments could lead to more oil and gas production on those lands, which is a Trump administration priority.