Trump Administration and Senator Target District Ranger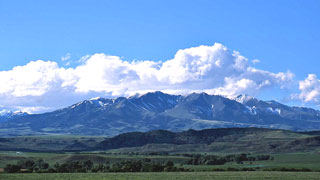 When a sitting U.S. senator and a member of the president's cabinet go after a Forest Service district ranger, guess who wins?
Alex Sienkiewicz, who was "reassigned" last month from his post on Montana's Custer Gallatin National Forest, is finding out the hard way.
Sienkiewicz, who has served as district ranger since 2011, is also facing an internal Forest Service investigation after vigorously defending the agency's position that it holds a legal easement across private property to access national forest land in the Crazy Mountains.
The Crazies have a decades-long history of conflict over public access. The isolated range is surrounded by private land, and the range itself is a checkerboard pattern of private and public lands.
Forest Service officials have consistently argued that the agency holds legal easements for trails that cross private land—easements that ensure access for agency employees and the general public. Several local landowners, however, maintain that no such right of access exists.
The issue came to a head last year, after a memo written by Sienkiewicz to his staff affirming the agency's position that Forest Service trails that cross private lands are open to all was posted on an advocacy group's Facebook page.
"NEVER ask permission to access the national Forest Service through a traditional route shown on our maps EVEN if that route crosses private land," Sienkiewicz wrote.
The Forest Service has held that position for many years. The agency maintains that it holds "prescriptive easements" on those trails—easements that could be extinguished if landowners can show that users have asked for their permission to cross private property.
In late May, a group of local landowners wrote a five-page letter to Montana Sen. Steve Daines and to Agriculture Secretary Sonny Perdue complaining about the memo, and implying that Sienkiewicz posted the document on the Facebook page of the group Public Land/Water Access Association.
"We would request that you use the full power and authority of your offices to investigate and determine whether this FS Ranger has been acting in congruence with FS policy and his job duties," the landowners wrote, "when he has been instigating conflict and encouraging criminal actions by members of the public against private property owners in order to try to establish public access across private land."
On June 7, Texas Rep. Pete Sessions wrote a letter to Perdue and to Interior Secretary Ryan Zinke accusing the Forest Service of going "rogue" in claiming prescriptive easements in Montana. Sessions said that Chris Hudson, whom he described as a constituent who owns a ranch near the Crazy Mountains, "has extensive, firsthand experience with the war on private property owners conducted by the Obama Administration."
Forest Service managers reassigned Sienkiewicz to an office job shortly after the letters were written.
Contacted earlier this month, Mary Erickson, supervisor of the Custer Gallatin National Forest, which includes the Crazy Mountains, declined to speak about Sienkiewicz's status, "(d)ue to the sensitive nature of this." However, in comments to the Billings Gazette, Erickson noted that the issue had been "raised to the level" of Perdue and Daines.
When asked by email whether the Forest Service's policies have changed regarding access to one of the trails in question, Erickson responded that "the Forest Service continues to assert that this is an historic route. There is no recorded easement that exists for this trail. That is the nature of this dispute."
Forest Service officials have not released details about the internal investigation of Sienkiewicz, or when his final status will be determined.
Kathryn QannaYahu, a Bozeman resident who runs a website called Enhancing Montana's Wildlife & Habitat, has compiled an abundance of documents relating to public access to the Crazy Mountains. She said she has confirmed that Sienkiewicz was not the person who posted the memo on the Facebook page.
She criticized Daines and top Trump administration officials for undue meddling and for seeking to punish Sienkiewicz essentially for doing his job.
"That is going to send a message out there to other public employees," QannaYahu said. "I am really worried that this is just the beginning of people pulling strings with Perdue and Zinke and getting people removed."