Land managers hope to rid the Olympic Mountains of the nonnative mammals.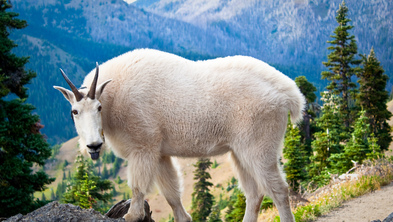 Federal land managers will try once again to remove hundreds of nonnative mountain goats from the Olympic Mountains in Washington, hoping to reduce damage to rare plant communities and prevent conflicts between goats and humans.
The National Park Service released a draft environmental impact statement today calling for capturing the mountain goats and transporting them across Puget Sound to the North Cascade Mountains, where they are native. Goats not captured would be shot.
The Forest Service is a cooperating agency in the project, as is the Washington State Department of Fish and Wildlife.
In the 1920s, about a dozen goats were released on the Olympic Peninsula, to be hunted for sport. The animals' numbers grew quickly. By the early 1980s, the population exceeded 1,000, with the animals concentrated in the eastern portion of Olympic National Park, but also in parts of the adjacent Olympic National Forest.
The expansive high alpine meadows offered ideal habitat for the goats—except for one component. Mountain goats crave salt, but the Olympic Mountains lack natural salt sources. So the Olympic goats look for alternatives.
The goats "often paw and dig areas on the ground where hikers have urinated or disposed of cooking wastewater," according to the draft plan. That rooting around, in addition to the goats' wallowing behavior, kills plants, including ones that are endemic to the isolated Olympics.
The goats, which also seek out sweaty, salty boots and packs, have become habituated to humans. In 2010, an Olympic National Park hiker tried to scare a large male goat off of a trail. The goat gored the man and severed several arteries, killing him.
The plan released today calls for using helicopters to remove as many goats as possible. They would be released in the Mount Baker-Snoqualmie and Okanogan-Wenatchee national forests, in areas where wildlife biologists believe the goats' numbers were historically greater than they are today.
In the 1980s, the Park Service removed more than 400 mountain goats from the Olympics. More than 100 more were killed outside the national park boundaries by hunters.
A 2016 survey found there were more than 600 mountain goats on the peninsula, with their numbers growing by about 8 percent each year.
Helicopters would be used to capture the goats during two-week periods in July and August, according to the agencies' preferred alternative. Officials hope to relocate or kill 90 percent of the mountain goats over the course of five years.
The agencies have scheduled four public meetings in August to discuss the plan. The Park Service is accepting comments on the proposal through September 26.