Attorney General Jeff Sessions "not taking sides" on Bundy Case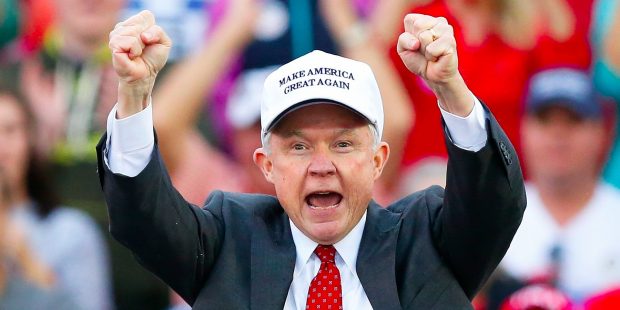 Last week, as jury selection was underway in the retrial of four men accused of brandishing weapons during the 2014 standoff between federal agents and supporters of scofflaw rancher Cliven Bundy, Attorney General Jeff Sessions traveled to Las Vegas.
According to the Las Vegas Review-Journal, Sessions uttered this remarkable statement:
"I'm not taking sides or commenting on the case."
Huh?
Sessions, of course, is the head law enforcement officer and chief lawyer in the United States government. The department he leads is prosecuting the four defendants. He's therefore taking sides. It's an ipso facto thing.
The attorney general made the statement during a longer, contorted series of comments about attorneys who are leading the government's case against Scott Drexler, Eric Parker, Ricky Lovelien and Steven Stewart. It seems he was trying to praise his attorneys.
"I've got to tell you, it's impressive when you have a tough case, a controversial case, and you've got the top guy leading the battle, going to court, standing up and defending the office and the principles of the law," Sessions said, according to media accounts.
We've all grown accustomed to muddled messaging from top Trump administration officials. But Sessions' equivocating is consistent with a pattern of kowtowing to supporters of the "local control" movement. That includes Interior Secretary Ryan Zinke and the president himself.
Zinke spokeswoman Heather Swift last week told E&E News that Zinke's "top priority since day one has been to return trust to local communities who work with the department."
In 2014, when he was running for Congress, Zinke expressed sympathy for the Bundys and their backers. During a debate in May of that year he criticized federal land management agencies for having law enforcement components.
"Now where did we go wrong down in Nevada where BLM and the Park Service has brand-new SUVs with blackened windows, weapons, Tasers and guard dogs?" Zinke mused.
As Interior Secretary, Zinke maintains that "the first line of defense" in such matters should be the local sheriff. That's the same position held by the staunchest advocates of local control of public lands.
Trump was explicit in his support of Bundy during the 2014 standoff, when he was a candidate for president.
"I like him, I like his spirit, his spunk and I like the people that — you know, they're so loyal," Trump told Fox News, referring to Cliven Bundy and his supporters. "I do like him. I respect him."
Given that context, is it surprising that the head of the United States Justice Department says he won't take sides in a case being prosecuted by the United States Justice Department?
It's important to remember what really happened during that armed standoff more than three years ago.
Federal agents attempted to impound cattle that were grazing illegally on land owned by all Americans. Those cattle belonged to Cliven Bundy, who owed (and still owes) more than $1 million in unpaid grazing fees. The agents were met by a small army of self-styled "patriots" who pointed assault-style weapons at them.
In addition to the retrial of the four men that is just getting underway in Las Vegas, two more trials await—including that of Cliven Bundy and his sons, Ammon, David and Melvin, that is slated to begin 30 days after the current trial concludes.
If you were a lawyer for the four men at trial now—or for those who will soon be tried, including Cliven Bundy and his sons—do you think you might try to figure out a way to let the jury know that the man in charge of the government's case isn't "taking sides?"
Could it be, just maybe, that Sessions' statement might undermine the government's case against the Bundy bunch?