Feds Seek Prison Terms for Bundy Backers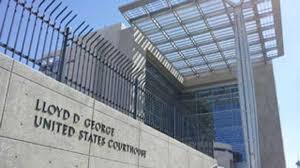 Jury selection began this week as the government tries once again to secure convictions against four men who brought assault-style rifles to a 2014 standoff between federal agents and supporters of Nevada rancher Cliven Bundy.
The government's first attempt to imprison the four ended in April when jurors were unable to reach a verdict. Attorneys for the four men—Scott Drexler, Eric Parker, Ricky Lovelien and Steven Stewart—say they expect government prosecutors to ask Judge Gloria Navarro to keep the focus on the confrontation itself rather than broader questions of constitutional rights and federal land management.
The standoff took place when Bureau of Land Management employees attempted to seize Bundy's cattle. The rancher owes more than $1 million in unpaid grazing fees.
Drexler and Parker were photographed pointing rifles at federal agents during the confrontation. Images from the standoff show Lovelien and Stewart carrying assault-style rifles but not pointing them.
Cliven Bundy remains in federal custody awaiting trial with 18 others, including four of his sons.