Zinke to Trump: Roll Back National Monument Designation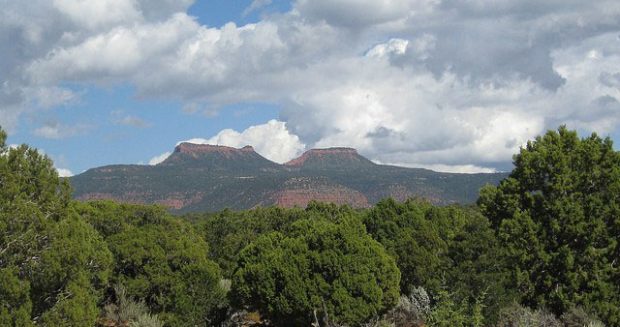 Department of Interior Secretary Ryan Zinke wants President Trump to narrow the boundaries of Utah's Bears Ears National Monument, marking a significant advance in the administration's pledge to roll back national monument designations.
In a memo sent to Trump on Saturday, Zinke argued that former President Obama exceeded his authority under the 1906 Antiquities Act when he created the national monument in the waning days of his administration.
The memo does not specify how much of the 1.35-million-acre area should lose national monument status.
Zinke said portions of the area warrant protection as a national monument, including areas containing Native American artifacts, rock art and cliff dwellings. However, he said that "much of the land" is suitable for activities including grazing, timber harvesting and mining.
Conservationists claim that no president has the authority to undo monument designations made by previous presidents. Zinke's memo implies otherwise, recommending that Trump use the "lawful exercise of the president's authority granted by the Act."
Trump signed an executive order in April ordering Zinke to conduct a 120-day review of 27 national monument designations created over the past two decades. That order required Zinke to issue an interim report within 45 days specifically addressing Bears Ears National Monument.
In his memo, Zinke recommends delaying specific recommendations on how to revise Bears Ears until his department completes the broader review.
Zinke's memo says the Interior Department received more than 76,000 comments on Bears Ears since Trump signed the executive order. "Comments expressed a variety of views," Zinke wrote, "however Federal and State elected officials from Utah strongly oppose the current (monument) boundary."
Conservationists claimed overwhelming public support for keeping the monument as it is.
"The decision should be an easy one—more than 1 million Americans, including Utahns by a 9 to 1 margin, have asked President Trump to leave Bears Ears National Monument alone," Jennifer Rokala, executive director of the Center for Western Priorities, said in a statement. "Instead of reinforcing America's conservation heritage, Secretary Zinke is recommending President Trump take actions that are both unprecedented and illegal."