"Preserve the Best and Conserve the Rest"
Book Review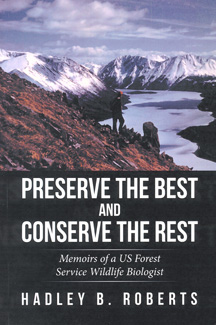 The work of a Forest Service wildlife biologist is not that of your typical desk worker—just ask Hadley B. Roberts.
Roberts, a longtime FSEEE member, was a Forest Service employee for nearly three decades. He spent much of that time traipsing through the wilds of New Mexico, Alaska, Montana, Idaho and Oregon, working for nine national forests. In his book, a memoir titled "Preserve the Best and Conserve the Rest," Roberts describes many of the triumphs and challenges he faced during an era in which timber was king.
A 2015 memoir, "Toward a Natural Forest," penned by former Forest Service Deputy Chief Jim Furnish, describes from a top-management perspective how the agency was forced to change its "get out the cut" mentality in the 1990s. Roberts' book complements Furnish's, offering a boots-on-the-ground account of the decades leading up to that transformation.
Much of Roberts' work for the Forest Service involved documenting the impacts of proposed timber sales on wildlife. He describes winning a few intra-agency battles about where timber sales would be offered and how much would be cut, but losing many more.
Born and raised in the New Jersey suburbs of New York City, he knew from childhood that he had a passion for being outdoors. After a four-year stint with the Navy, he soon headed west. His Forest Service career began shortly after he earned bachelor and master degrees in wildlife management at the University of Idaho.
His account is laced with anecdotes—adventures and misadventures as he tended to an array of responsibilities, making clear that a career with the Forest Service involves duties not covered in a formal job description.
Early in his career, Roberts surveyed and marked timber sales boundaries. He serviced fire lookouts. He replanted cut-over areas. Eventually he landed positions more suited to his education and his interests, serving as a wildlife biologist for Alaska's Chugach National Forest, the Deschutes National Forest in Oregon, the Salmon and Challis national forests in Idaho, and others in the West.
The book offers an inside glimpse into the ways in which the agency's pro-timber and pro-grazing culture manifested itself in day-to-day operations.
He describes, for example, a group outing to inspect a grazing allotment on Idaho's Salmon National Forest. A district ranger proposed spraying a sagebrush-covered hillside with herbicides to encourage the growth of grass for cows to eat. Roberts and another wildlife biologist pointed out that the sagebrush was an important winter food source for mule deer in the area. Besides, there was already ample grass for grazing, they said. The district ranger grew increasingly agitated.
"How dare somebody question his authority and give equal consideration to both deer and his cows?" Roberts writes. "Then he pointed at me and screamed, 'And you're a preservationist!'"
This was one of his victories; no spray was applied.
Roberts relates many trips and experiences beyond his Forest Service career. He counts as his most important victory a battle that he fought after his retirement. A Forest Service employee tipped him off about a controversial timber sale on the Salmon National Forest, providing evidence that agency officials had decided to go ahead with the sale before the required environmental analysis was conducted. Roberts appealed and the decision was reversed.
In his epilogue, Roberts describes the tensions between himself and members of the old guard—the "dinosaurs." He writes that he never sacrificed his principles, even though his points of view didn't always carry the day. He wasn't afraid to speak out or to blow the whistle.
"Because I took such a tough stand on wildlife issues, the dinosaurs often said that I was not a 'team player,'" he writes. "To them, I explained that I was indeed a team player. The difference was that I was on the 'wildlife team' and they were on the 'Forest Service team.' I went on to explain that the teams should be playing together, not against one another."
"Preserve the Best and Conserve the Rest" is available at amazon.com.