The Roundup for May 12, 2017
This week's latest public land news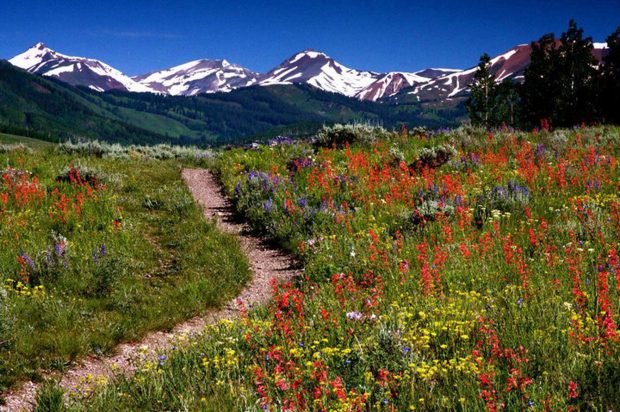 Senate unexpectedly rejects bid to repeal a key Obama-era environmental regulation – The Washington Post
The Senate on Wednesday narrowly blocked a resolution to repeal an Obama-era rule restricting methane emissions from drilling operations on public lands — with three Republicans joining every Democrat to preserve the rule.
Could Trump dismantle the American West? – High Country News
These iconic places define the American West. But the Trump administration brings a new philosophy to public land management. Their changes appear to be part of a larger strategy articulated by President Donald Trump's senior strategist, Steve Bannon, to advance in his words "the deconstruction of the administrative state."
Bennet, Western senators ask Sec. Zinke to reverse suspension of BLM resource council meetings – The Denver Post
Sen. Michael Bennet on Thursday joined a group of Western senators in asking the Department of Interior to lift its sudden suspension of advisory committees and local boards that deliver public input on the Bureau of Land Management's policy decisions.
Revived bull trout lawsuit seeks grazing prohibition – Capital Press
A long-standing dispute over cattle impacts on bull trout has been roused from dormancy, with environmentalists seeking an order prohibiting grazing along two Eastern Oregon rivers.
US Plan to Improve Firefighter Shelters Falters – Flathead Beacon
Crews who battle wildfires will have to wait at least another year before getting better fire shelters than those that failed to save 19 firefighters trapped by flames in Arizona four years ago, officials told The Associated Press on Thursday.
Next Step for Rosemont Mine Approval Could Come in June – Arizona Public Media
Coronado National Forest officials appear ready to move forward on one of two permits for the proposed Rosemont Copper Mine in the Santa Rita Mountains.
Advocates Push to Revive Federal Funding for Schools Near National Forests – The Daily Yonder
Supporters of the Secure Rural Schools Act are accustomed to pressing their case in Washington, D.C. But this year's effort to restore federal funding for schools near National Forests has a special urgency after Congress left the program out of the recent budget agreement.
Forest Service seeks salvage logging after Pioneer Fire – McClatchyDC
The Forest Service proposes to log 70 million board feet of timber over the next two years and replant more than 6,000 of the most damaged acres with mostly ponderosa pine. Salvage logging has been a controversial practice for decades, sometimes seen as an excuse to log quickly with shortened environmental review.
Nestlé Faces Backlash Over Collecting Water From Drought-Stricken Southern California – CBS Los Angeles
The Forest Service is now reviewing Nestle's permit for the first time in 30 years.
Human noise pollution is everywhere, even in the national parks – The Washington Post
This [noise pollution] problem pervades wilderness areas across the United States, Buxton and her colleagues reported Thursday in the journal Science. Using a model based on sound measurements taken by the National Park Service, they found that human noises at least double the background sound levels at the majority of protected areas in the country. This noise pollution doesn't just disrupt hikers; it can also frighten, distract or harm animals that inhabit the wilderness, setting off changes that cascade through the entire ecosystem.
Disappearing Montana Glaciers A 'Bellwether' Of Melting To Come? – NPR
The glaciers in Montana's Glacier National Park are rapidly disappearing. Some have been reduced by as much as 85 percent over the past 50 years, while the average loss is 39 percent, according to a new study from the U.S. Geological Survey and Portland State University.
Study refutes findings behind challenge to Sierra Nevada forest restoration – Berkeley News
A study led by ecologists at UC Berkeley has found significant flaws in the research used to challenge the U.S. Forest Service plan to restore Sierra Nevada forests to less dense, and less fire-prone, environments.
Rare Kirtland's warbler making a comeback – The Detroit News
About 95 percent of all Kirtland's warblers on Earth nest in the northeastern Lower Peninsula near Mio. Nearly extinct 50 years ago, the Kirtland's warbler was one of the first species protected under the Endangered Species Act of 1973. Today it's considered a conservation success story.
Public Fishing Access, Clean Water, and National Forests – Outdoor Life
Much of the national discussion going on right now about the value of public lands for sportsmen have centered around habitat and access for hunting. That's fair enough, as our national forests, parks, wildlife refuges and other public lands add up to about 640 million acres, most of them open to well-regulated hunting. But let's consider fishing for a moment.
Kisatchie National Forest offers haven for outdoor enthusiasts – ABC KTBS
Whether you are an outdoor enthusiast or not Louisiana's only national forest is an awesome treasure.
Roadtrippin': Trekking the Tongass National Forest – NBC KTUU
Through mountains, valleys, islands and lakes, the Tongass National Forest covers roughly 17 million acres of Southeast Alaska, including 450 miles of winding trails that spiderweb through the dense temperate rainforest of sitka spruce, yellow cedar and hemlock. "Your opportunities for solitude and to be able to get out and recreate how you want and try to get that Alaska experience is there," said Forest Service district developed recreation manager Brad Schumaker. Check out our video visit in Roadtrippin' Alaska.