Good Earth Power Sued Again
Company falls far behind 4FRI restoration schedule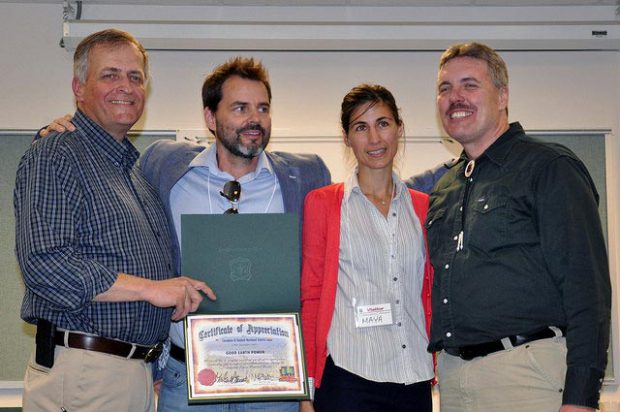 The company that holds the largest forest restoration contract ever issued by the Forest Service is being sued by two former executives who claim they are due more than $4 million in unpaid salary and damages.
Good Earth Power AZ is tasked with thinning 300,000 acres of forests in northern Arizona as part of the Four Forest Restoration Initiative, or 4FRI. That plan calls for thinning an overall total of 2.4 million acres that the Forest Service says have grown unnaturally dense after decades of wildfire suppression and overgrazing.
In a lawsuit filed in federal court last week, Martin Gillard, Good Earth's former chief operating officer, and Darren Gurner, the company's former managing director, charge Good Earth and its owners with breach of contract. They both allege they were fired last winter without cause.
The lawsuit is the latest blow to a project that has been beset by delays and broken promises.
Nearly five years after the contract was issued, only about 8,000 acres have been thinned. Good Earth has struggled to find ways to turn a profit from the small-diameter trees and brush it is obligated to clear.
Last December, the company agreed to pay a former partner more than $1.2 million to settle a separate lawsuit alleging fraud and breach of contract. Good Earth had hired Oregon-based Campbell Global to coordinate much of the on-the-ground restoration work that the 4FRI contract requires.
Gurner and Gillard's lawsuit names Good Earth and its owners as defendants. That includes the company's chief executive, Jason Rosamond, and his wife, Maya Minkova, who is the company's vice president.
It also names as a defendant Alawi Zawawi, who is an associate of Rosamond's and a citizen of the Sultanate of Oman. The lawsuit identifies Zawawi as an owner of Good Earth and one of the company's "top executives." Zawawi is also chairman of the Zawawi Group, which describes itself as "the Omani family conglomerate."
The complaint identifies four companies as Good Earth's "parent holding companies." All of those companies were registered in the British Virgin Islands, a small territory in the Caribbean that is considered one of the world's foremost corporate tax havens. According to the lawsuit, all four of those firms lost their registration in the British Virgin Islands last May for "non-payment of registration fees."
From November 2013 until his termination, the lawsuit says, Gurner was entitled to receive $1.1 million in compensation, plus additional amounts for bonuses and incentives. He actually received less than $200,000, the document says.
The lawsuit accuses Good Earth of shorting Gillard by more than $600,000. Arizona law provides for tripling the amount paid by employers for back pay.
The court document says Gillard and Gurner were "further frustrated" because Good Earth "received multiple significant infusions of millions of dollars in capital from various investors" over the past three years. It does not identify those investors.
Last year, according to the lawsuit, the U.S. Department of Labor impounded timber cut by Good Earth because it failed to pay wages it owed its employees.
The company has come under increased criticism in recent months as it falls farther behind the thinning and restoration pace called for in the 4FRI contract.
In March, Arizona Senator John McCain sent a letter to Forest Service Chief Thomas Tidwell asking if Good Earth's "failure to perform" should prompt the Forest Service to terminate the contract. He called the shortfall "profoundly disappointing" and said that it subjects "large swaths of my state to an excessive risk of catastrophic wildfire."
Last month, local officials gave Good Earth permission to build a commercial composting operation in Coconino County. Company officials say that facility and upgrades to one of its sawmills will allow them to increase the restoration pace to 30,0000 acres per year by early 2018.