Trump Attacks National Monuments
Decries "massive federal land grab"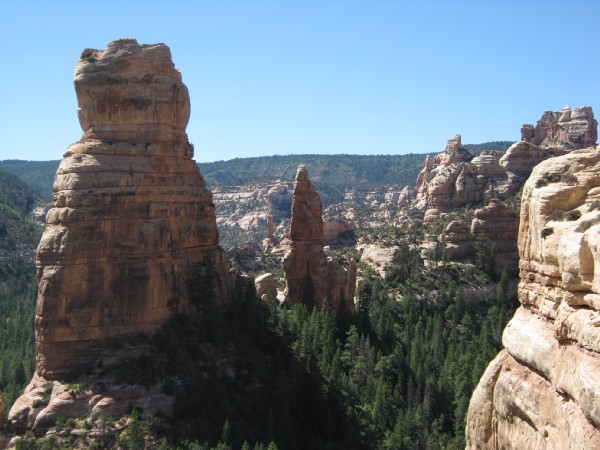 President Donald Trump signed an executive order today that could open millions of acres of national monuments to industrial development or even rescind such designations altogether—a move no previous president has ever attempted.
The order requires Secretary of Interior Ryan Zinke to develop recommendations to remove protections for national monuments of 100,000 acres or more that three previous presidents have created since 1996.
Two dozen national monuments will be reviewed, according to the White House, ranging from the Grand Staircase-Escalante National Monument in Utah to the most recent designations made by Barack Obama in the waning days of his presidency. Those include the Bears Ears National Monument in Utah and the Gold Butte National Monument in Nevada, which is adjacent to the ranch owned by anti-government activist Cliven Bundy.
The order takes square aim at Obama's environmental legacy. The former president designated more acres of land and water as national monuments than any other president.
The 1906 Antiquities Act, signed into law by President Theodore Roosevelt, allows presidents to set aside areas that have significant cultural value or other special features.
Trump's order gives Interior Secretary Ryan Zinke 45 days to develop interim recommendations for rescinding national monument protections, and 120 days to issue recommendations for legislation.
Flanked by Zinke and Vice President Mike Pence at a signing ceremony at the Interior Department headquarters, Trump labeled the monument designations by his predecessors an "abusive practice" and a "massive federal land grab."
"Somewhere along the way the Act became a tool of political advocacy rather than public interest," Zinke said. "It's easy to see why designations in some cases are viewed negatively by those local communities that are impacted the most."
Previous presidents have occasionally trimmed the size of existing national monuments, but no president has ever eliminated a national monument altogether. Any attempt to do so by Trump is expected to draw a swift legal challenge.