Camping Restrictions Considered for Colorado Wilderness
Number of visits to Maroon Bells-Snowmass Wilderness has tripled over the past decade
Forest Service officials in Colorado are laying plans to limit camping in the Maroon Bells-Snowmass Wilderness Area, which holds some of the most iconic mountain scenery in the nation.
The number of visits to the most popular destinations in the wilderness area nearly tripled from 2006 to 2015, according to Forest Service statistics, creating a host of environmental concerns.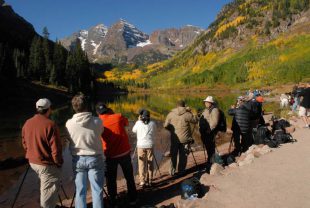 Some of the overnight visitors are camping in illegal sites, cutting down trees for firewood and leaving behind piles of trash and unburied human waste.
On Tuesday, Aspen-Sopris District Ranger Karen Schroyer and other officials with the White River National Forest described the problems to the Pitkin County Board of Commissioners.
"In 2015, there were 327 illegal campfire rings cleaned up and 346 violations for illegal campfires," Schroyer said. "In 2016, there were 293 instances of unburied human waste. And each year there is more and more gear left behind."
The restrictions would apply to five of the most-visited locations in the 181,000-acre wilderness area, starting with Conundrum Hot Springs, which bubbles near timberline 8.5 miles up a trail outside of Aspen.
The area surrounding the springs includes 18 designated campsites. But on busy weekends as many as 300 people camp in the area. The Forest Service wants to limit camping there to a maximum of 20 parties per night. Group sizes average about 2.3 people, Schroyer said.
Other areas that are being considered for camping restrictions include Crater Lake, Snowmass Lake, Capitol Lake and West Maroon Valley. None of the camping restrictions would go into effect until 2018, according to the Forest Service.
The Forest Service is accepting comments about the plan until April 28. A final decision is expected this summer.