The Roundup for February 24, 2017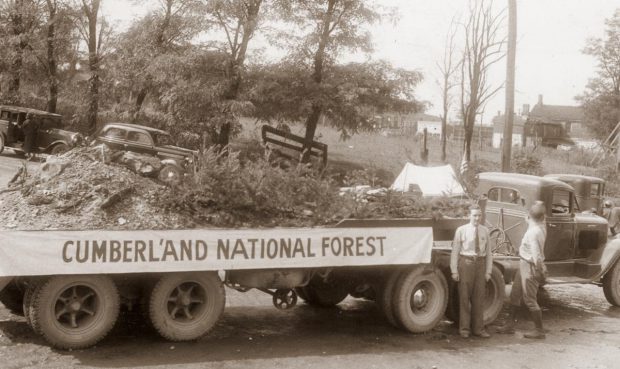 Happy birthday! This past week, the Daniel Boone National Forest in Kentucky (originally named the Cumberland) celebrates 80 years and the Bighorn National Forest in Wyoming celebrates 120 years. Here's to many more!
---
Americans once moved away from forests. Now forests are moving away from Americans.—The Washington Post
A new study of satellite images taken over 10 years starting in 1990 shows the rural forest canopy disappearing. Forest space disappeared from the United States in such big chunks that the average distance from any point in the nation to a forest increased by 14 percent, about a third of a mile.
Trusting in Trump, Utah lawmakers back off suing for public-land control—The Salt Lake Tribune
Donald Trump becoming president has apparently quenched much of the fire in the belly for legislative Republicans to sue the federal government for control of public lands.
Idaho officials looking to buy U.S. Forest Service land—Capital Press
Idaho officials are in preliminary discussions with the U.S. Forest Service on possibly buying federal public lands.
Otter Seeks to Intervene in Federal Logging Lawsuit—U.S. News
Idaho Gov. C.L. "Butch" Otter has asked to intervene in a lawsuit involving an environmental group and the U.S. Forest Service over a proposed logging project.
Tester announces new wilderness bill for Blackfoot-Clearwater—Missoulian
Proposed legislation by Sen. Jon Tester would create new biking and snowmobiling play areas while expanding the Bob Marshall Wilderness Complex by about 79,000 acres.
Will Pipelines Destroy Our Thru-Hikes?—Outside
A proposed 300-mile natural gas pipeline would cut a swath across the Appalachian Trail and could undermine protections for other National Scenic Trails across the country
Forest Service Failed Spotted Owl In Timber Plan, Judge Says—Law360
A California federal judge on Thursday ruled the U.S. Forest Service didn't take a hard enough look at the environmental effects a timber project in the state's coastal mountain range would have on the northern spotted owl, saying the government arbitrarily and capriciously failed to consider more conservation-friendly options.
Conservation groups sue Forest Service over logging project near Lincoln—Great Falls Tribune
In the lawsuit, the Alliance for the Wild Rockies and Native Ecosystems Council contend the project violates big game security and thermal cover standards, violating federal laws and threatening elk, grizzly bears and lynx.
Lumber companies file lawsuit over monument expansion—Mail Tribune
Two lumber companies filed a lawsuit Friday challenging the legality of President Barack Obama's expansion of the Cascade-Siskiyou National Monument during his last days in office.
Logging in Helena-Lewis and Clark National Forest best in decades—Great Falls Tribune
In 1997, 14.6 million board feet of timber were sold in Lewis and Clark with the amount remaining in single digits until 2015, when sales increased to 13.5 million, up from 2.4 million in 2014.
Volunteers bring citizen science to the forest—The Bulletin
Efforts help Forest Service continue work after budget cuts
Forest officials plan for large crowds for summer eclipse—Tillamook Headlight Herald
Siuslaw National Forest officials are working on plans to accommodate the large numbers of visitors anticipated to be coming to Oregon this summer to view the solar eclipse.
ANF Forest Service offices closed Tuesday due to phone threat—The Bradford Era
The U.S. Forest Service offices on the Allegheny National Forest all closed Tuesday due to an "unsubstantiated phone threat," said Jason Kirchner, public affairs specialist with the U.S. Forest Service.
Return of the grizzly?—High Country News
Feds consider transplanting bears into Washington's North Cascades.
Congress Targets Updated BLM Land-Use Planning Rules—Public News Service
Groups in the West are concerned that repealing a new BLM planning process could tie the hands of the U.S. Interior Department on future planning rules.
One in, two out; methane rules; facts and democracy—High Country News
Public land news in brief.
BLM reports rise in human-caused fires due to target shooting—KKCO News
Dryer than normal weather and fires on the Front Range are sparking some concern that the Western Slope could be in for an early fire season.
Celebrating 120 years with the Bighorn National Forest—The Sheridan Press
Feb. 22, 2017, is the 120th anniversary of the creation of the Bighorn National Forest.
Daniel Boone National Forest celebrates 80 years—The Richmond Register
On Feb. 23, 1937, President Franklin D. Roosevelt signed a proclamation that established the Cumberland National Forest in southern and eastern Kentucky. The national forest was renamed as the Daniel Boone National Forest in 1966.
---
Some news websites create pop-up adds or surveys before allowing a user to view content. We have sourced the content using a free ad blocking extension that prevents these pop-ups when enabled. If you have trouble viewing the content of the linked sites, we suggest trying an ad block extension with your browser.