4FRI Contractor Settles Lawsuit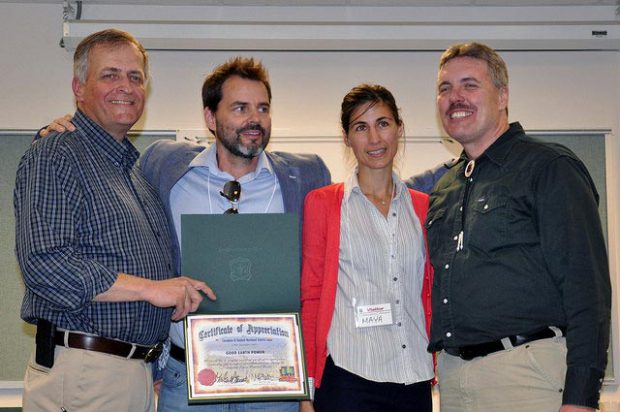 December 9, 2016 — The main contractor for the largest forest restoration project ever attempted on national forests will pay a former partner more than $1.2 million to settle a lawsuit alleging fraud and breach of contract.
Good Earth Power holds a contract with the U.S. Forest Service that calls for thinning and restoring 300,000 acres in northern Arizona that land managers say have grown unnaturally dense due to decades of fire suppression and overgrazing.
The acreage is part of the 2.4-million-acre Four Forest Restoration Initiative, or 4FRI, which aims to restore forests in the region to a closer approximation of their historical conditions.
Good Earth Power took over the 4FRI contract in September, 2013, after the initial contract holder, Montana-based Pioneer Associates, failed to secure financing for the project. Shortly thereafter, the company forged an agreement with Portland-based Campbell Global, a timber-management firm. That contract called for Campbell Global to coordinate much of the on-the-ground forest restoration work for Good Earth Power.
Campbell Global officials terminated the contract in June 2015. They then sued Good Earth Power, alleging the company owed them more than $3 million in unpaid fees.
Last month, lawyers for the two firms held a settlement conference before U.S. District Judge Michael Mosman in Portland. The two sides informed the judge that Good Earth Power would pay Campbell Global $1,275,000 to settle the case, spread over four payments that will conclude in May of 2018. Earlier this year, Mosman ordered Good Earth Power to pay Campbell Global $525,000, saying that amount was "undisputed."
The first phase of the 4FRI project is the culmination of a years-long effort by Forest Service officials, industry representatives, conservationists and others to develop a plan for widespread forest restoration work in northern Arizona that is to be conducted in ways designed to protect wildlife and fragile ecosystems.
Underpinning the 4FRI effort is the assumption that private industry can develop methods to make money from the small-diameter logs, branches and debris gathered during the thinning and restoration work.
So far, however, Good Earth Power has thinned just a fraction of the acreage that the Forest Service has made available to the company.
As of November, according to Forest Service statistics, just 8,332 acres have been treated under the Phase 1 4FRI contract—the one held by Good Earth Power. That's just over 14 percent of the acreage that the Forest Service has made available to the company, and less than 3 percent of the overall acreage included in the contract. The terms of that contract call for Good Earth Power to restore all 300,000 acres within 10 years.
In addition to hundreds of pages of court records generated during the litigation between Campbell Global and Good Earth Power, FSEEE has obtained tens of thousands of pages of documents and internal and external correspondences that Good Earth Power released to Campbell Global during the case's discovery process.
Those documents offer a detailed look into the inner workings of Good Earth Power as company officials struggled to find ways to implement the 4FRI vision and turn a profit in the year-and-a-half after the Forest Service awarded it the contract.
The documents reveal that Good Earth Power is just one part of a complicated global organization with ties to the ruling family of the Sultanate of Oman, on the Arabian Peninsula. At least some of the organization's financing is located in the British Virgin Islands, a small Caribbean territory widely considered one of the world's foremost corporate tax havens with a notoriously opaque banking system.
A document hand-written by Good Earth Power CEO Jason Rosamond last April as part of a court proceeding indicates the company is 100 percent owned by an entity called ZR Energies Ltd. That firm, in turn, is 90 percent owned by another entity called ZR Holdings Intl. Ltd. Rosamond's diagram indicates that firm is 99 percent owned by Alawi Zawawi, who is chairman of the Zawawi Group, which describes itself as "the Omani family conglomerate." Rosamond owns the other 1 percent, according to the document.
On September 10, 2014, Good Earth Power Managing Director Darren Gurner sent an email to an Arizona accounting firm saying, in response to a question about Good Earth Power's corporate structure, that "ZR Energies Ltd. is the parent of Good Earth Power Ltd." Other documents identify "ZR FEC Limited" as the parent company of Good Earth Power.
The discovery documents show that Good Earth Power officials in 2014 were negotiating a joint venture agreement with GRO-WELL Brands, which produces organic lawn and garden products and has corporate headquarters in Tempe.
A draft copy of the agreement shows that Good Earth Power was negotiating on behalf of "ZR FEC Limited," which is incorporated and registered in the British Virgin Islands. The draft agreement lists a post office box in Oman as the company's "contact address."
The discovery documents show that Good Earth Power officials were concerned about how the company's corporate structure might be perceived by the public.
On December 18, 2014, Rosamond sent an email to company officials regarding the wording of a press release about expansion plans at a mill it operates in Heber, Arizona, called the Lumberjack Mill.
"I have made an important change in the 3rd paragraph," Rosamond wrote. "GEPAZ (Good Earth Power Arizona) did not buy Lumberjack. The parent company of GEPAZ bought Lumberjack. As that company is a foreign company, I don't want to introduce that into the article so I have just changed it to 'GEPAZ began working with Lumberjack …'"
The discovery documents also show that Rosamond and other company officials were scrambling in the months following Good Earth Power's acquisition of the 4FRI contract to pay workers, partners and subcontractors, including Campbell Global.
"I feel like a circus clown," Rosamond emailed Gurner on September 3, 2014. "Juggle juggle."
FSEEE will release further details of the Good Earth Power documents in subsequent reports.