Legendary remote forest needs help
The following op/ed, written by FSEEE director Andy Stahl, appeared in The Register-Guard on Nov. 12, 2007.
Deep in the Coast Range, nestled between the Smith and Umpqua rivers east of Reedsport, is Oregon's most remote location –­ the Devil's Staircase in Wassen Creek. It's as wild an area as any in the state, and it deserves wilderness protection.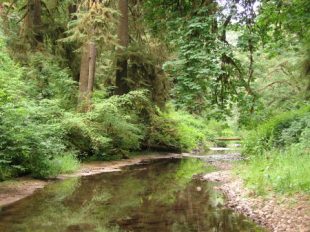 In the 1970s, the very existence of the Devil's Staircase was hotly debated among student environmental activists at Oregon State University's Environmental Center.
Some thought the rumors of a staircase of waterfalls with plunge pools as large as bathtubs carved into the sandstone bedrock was only wilderness myth. Others were convinced the waterfall existed, but didn't know where along the miles of sinuous and inaccessible creek it would be found.
The several-year search for Devil's Staircase took Survival Center students and the volunteer activists of the now-defunct Siuslaw Task Force on legendary bushwhacks down cliffs and into impenetrable vine maple thickets as they sought 1) to find Wassen Creek, and 2) to follow it downstream, hoping the elusive falls were just around the next bend. Many a rainy night was spent lost at the bottom of Wassen Creek's steep and remote ravines that lie so precipitously close together as to be unmappable.
They never did find the Devil's Staircase. But it does exist. I have seen it. More than 25 years ago, I joined the founder of the Wassen Creek Wilderness Committee (who was later to become my wife) on a cross-country trek to resolve, we hoped, the Devil's Staircase mystery.
We started on the only "trail" into Wassen Creek's back country ­ actually a deer track ­ that jumped off a logging road on the north side of the creek. Our plan was to find the creek and then, by following the creek bed downstream, traverse its entire length to the Smith River. We would then have to cross the Smith River to reach the old pickup truck we had stashed on the other side, a task we weren't sure how we would accomplish.
We hiked in the creek bed, because that was the only feasible route. Using sticks for balance and shod in tennis shoes, our progress was slow ­ we had to climb under, over and around the huge trees that had fallen across the creek. We saw bull elk, a family of river otters as surprised to see us as we were to stumble across them, and shy black bears that turned and scampered away when we neared.
One thing we didn't see: ­ any sign that anyone had ever been there before. Not a candy wrapper, beer bottle, blaze on a tree, fire ring or footstep in the mud. By the second day we realized that if anything should go wrong, a sprained ankle or other injury, there was no easy way out.
On Day 3 we found it. Devil's Staircase was everything we had hoped.
Wassen Creek flows over four or five sandstone steps as it tumbles down about 50 feet. Into each step, the creek had drilled round plunge pools, perhaps using hard, igneous pebbles to scrape away the softer sandstone.
The pools range in size from those large enough for several people to bathe in to thimbles that have just begun their erosion journey.
Wassen Creek runs through public land, half managed by the U.S. Forest Service and half by the Bureau of Land Management. This wild land has been protected from logging and road building by the Northwest Forest Plan since 1994. Today, it remains the finest stand of old growth ancient forest in Oregon's Coast Range. It is home to the coast's highest density of spotted owls and is habitat for salmon and steelhead up to Devil's Staircase's impenetrable barrier.
But Wassen Creek is threatened. As a part of its Western Oregon Plan Revision process, the BLM has proposed to open its half of Wassen Creek to logging. The U.S. Fish and Wildlife Service has proposed to remove critical habitat protection for the northern spotted owl from the BLM's ownership, giving carte blanche to BLM's logging plans.
Wassen Creek deserves to be protected forever as a wilderness area. In fact, in 1984, the U.S. House of Representatives included Wassen Creek in the Oregon Wilderness Bill it passed.
But Rep. Jim Weaver was forced by Oregon's senior senator, Mark Hatfield, to choose between Wassen Creek or another equally deserving area in Southern Oregon. Weaver loved them both, but the other land was more imminently threatened by logging.
Today, Oregon's most remote forest is threatened as it never has been before. Rep. Peter DeFazio can finish the job Weaver started 23 years ago and ensure that Wassen Creek remains wild forever ­ if Oregonians ask him to do so.
==============
Andy Stahl, a forester, serves on the Crow-Applegate-Lorane School Board and is executive director of Forest Service Employees for Environmental Ethics.